Isaac Arthur Fox
October 29, 1853 Netherside, Bradwell Derbyshire England
January 3, 1931 Dunnville, Ontario, Canada
Elizabeth Jane Barnsley
November 29, 1853 Netherwater Farm, Derbyshire, England
June 14, 1925 Moulton, Ontario, Canada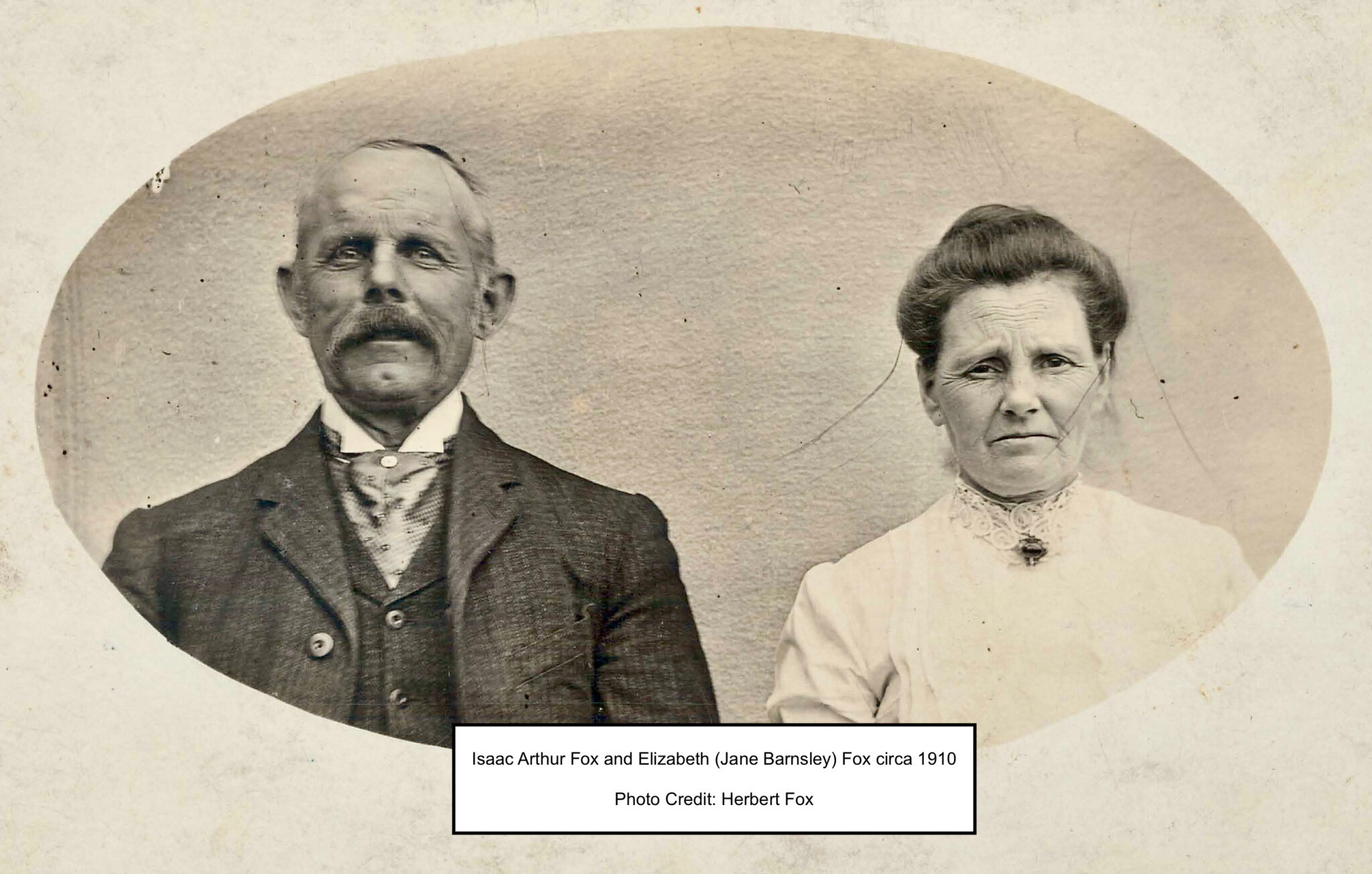 Isaac and Elizabeth both came from agronomic heritages that spanned back centuries in the Derbyshire valleys of England. They were raised around farms and would have grown up together within the connected families of Hazelbadge and Netherwater. Their marriage was solemnized on January 3, 1877 at St. Barnabas Church in Bradwell.
1. 

They were 23 at the time and they welcomed their first child Herbert in June of that year, proving their own savvy in cultivation: through sheer determination they grew a full-term baby in a mere 5 months.
The Foxes were not immune to the ideals of the traditional family structure of that era - having a substantial brood would cushion any losses from infant mortality, especially important since the use of child labour was a common practice for farming. Within ten years of their marriage they had 5 children, and judging by the three-year gap between Richard and George it could be assumed a few pregnancies were lost.  By some misfortune, they also seemed to be at odds finding a homestead that would satisfy both a growing family and employment, inferred by the rotating locations cited in their documents such as Manchester and the Norfolk Hotel in Sheffield.
The 1881 Census imparts a wedge of that juggling act, recording Isaac (employed as Cow Keeper), Elizabeth and their second child, two-year-old Richard, living at 19 Hill Street in Sheffield
2. 

At the same time their first child Herbert was three and living with his maternal grandparents Richard and Eliza Barnsley at Netherwater Farm, along with his Aunt Hannah, 21 yrs, and his Uncle George, 18 yrs.

3.

By this time Elizabeth was about to be pregnant with their third child, George, born in 1882

. 

1. Isaac John Fox M Cert 3 Jan 1877 to Elizabeth Jane Barnsley at St Barnabas, Bradwell, Derbyshire, England 

2. 1881 England Census

for Isaac A. Fox 

3. 1881 England Census

for Herbert Fox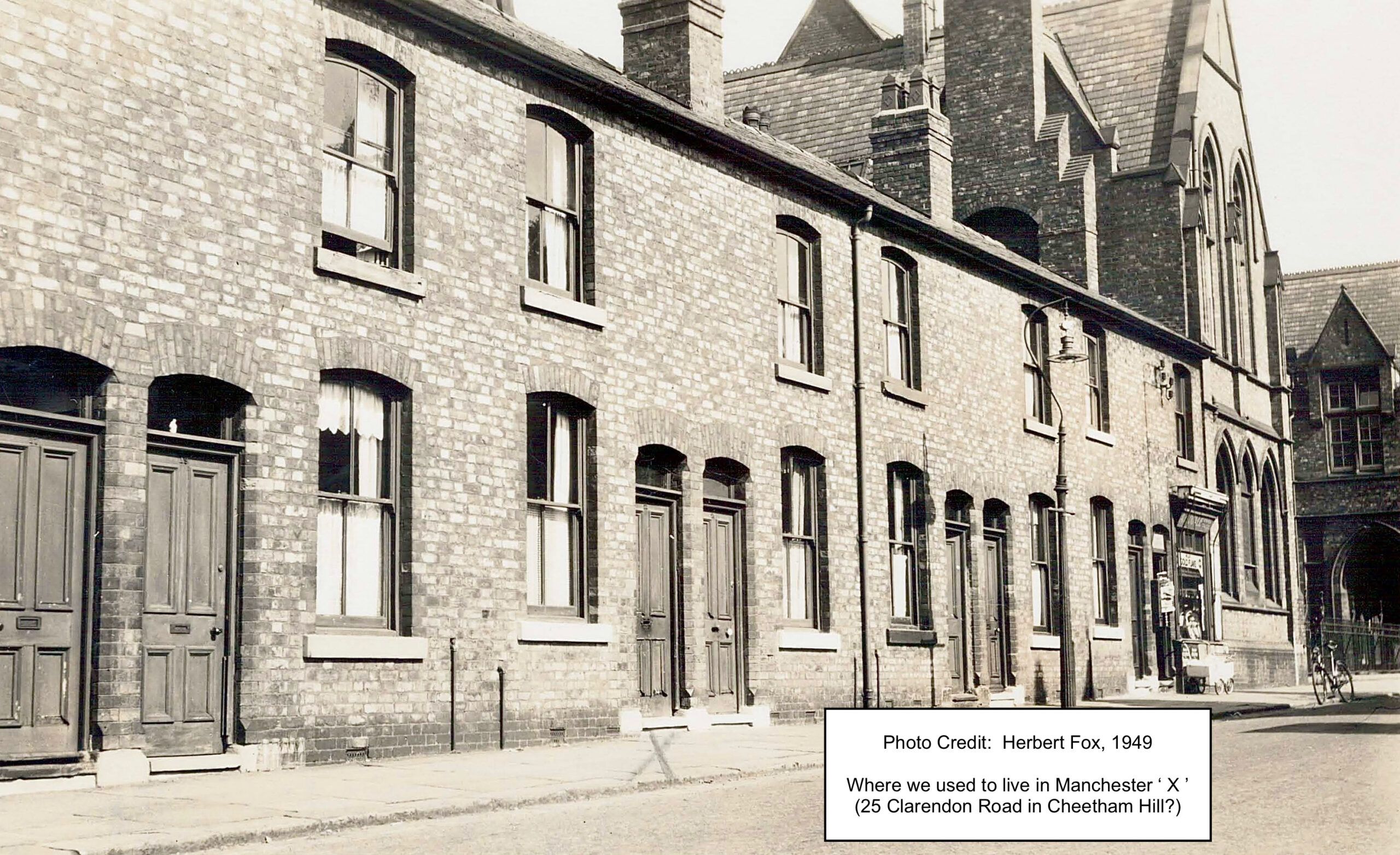 Small inheritances trickled in through the unfortunate events of Elizabeth's grandfather, father and brother passing away within six years of each other.  The following documents relate to the two George Barnsleys in her life.  The first one is of her Grandfather George Barnsley who married Betty Wragg (first wife) with whom he had one son - Richard Barnsley - Elizabeth's father.  The second document describes an inheritance left to Elizabeth and sister Hannah from her brother George who passed away May 3, 1886 at the age of 23 from epilepsy.
Letters and Translations reprinted with permission from Maggie Fox.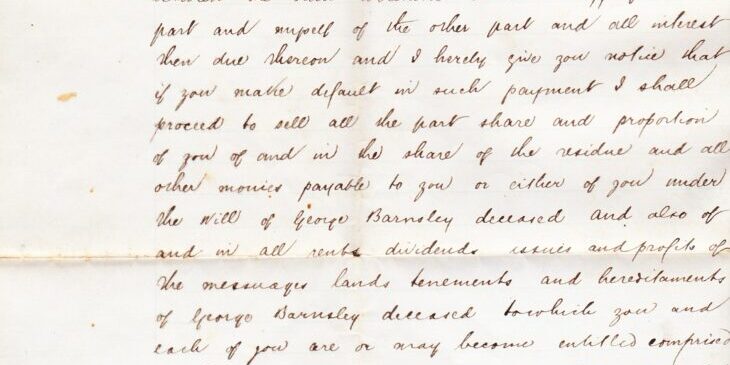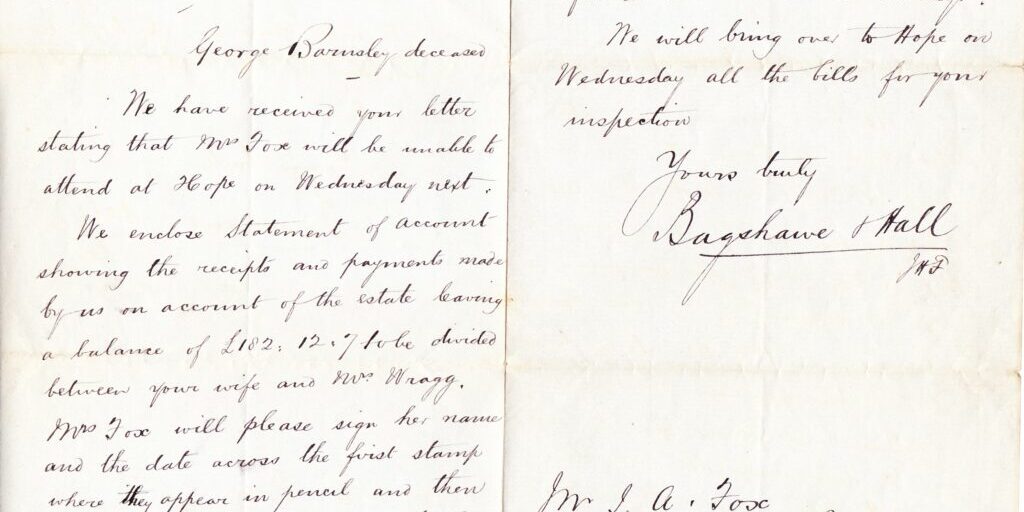 To Mr. Isaac Arthur Fox and Elizabeth Jane his wife, of the "Norfolk Hotel", Mowbray Street, Sheffield
I hereby require you to pay to me at the expiration of six calendar months from the date of this notice the principal sum of three hundred pounds secured by a certain indenture dated the 7th day of February 1880 and made between you of the one part and William Johnson Clegg of Sheffield in the County of York, Gentleman, of the other part and by a certain indenture dated the 14th day of November 1881 and made between the said William Johnson Clegg of the one part and myself of the other part and all interest then due thereon. And I hereby give you notice that if you make default in such payment I shall proceed to sell all the part share and proportion of you of and in the share of the residue and all other monies payable to you or either of you under the will of George Barnsley, deceased and also of and in all rents, dividends, issues and profits of the messenger lands, tenements and hereditaments [?] of George Barnsley, deceased, to which you and each of you are or may become entitled, comprised in the said indentures in pursuance and exercise of the power for that purpose given by the said indentures.
In witness my hand this 9th day of June, 1882 Charles Edward Daykin
This loan likely financed or prompted Arthur and Elizabeth's move to Canada
Mr. J. A. Fox 25 Clarendon Road Cheetham Hill Manchester
January 21st, 1887
Dear Sir,
Re: George Barnsley, deceased.
*We have received your letter stating that Mrs. Fox will be unable to attend at Hope on Wednesday next. We enclose statement of account showing the receipts and payments made by us on account of the estate leaving a balance of [British pound sign]  182.12.7  to be divided between your wife and Mrs. Wragg. Mrs. Fox will please sign her name and the date across the first stamp where they appear in pencil and then be good enough to return the account to us by next post as we may require to refer to it on Monday. The only claim now outstanding so far as we are aware is Shirley's. We will bring over to Hope on Wednesday all the bills for your inspection.
Yours Truly, Bagshawe & Hall,
JHF Bagshawe & Hall Solicitors 63 Norfolk Street, Sheffield
*Elizabeth was most likely about to, or had already just given birth to Ethel Jane
Brother George's estate details are made official below.  His father's estate - listed beneath George's entry - was managed by Hannah's husband, Thomas Wragg a year earlier.  Correspondence between Hannah and Elizabeth is found at the bottom of the Fox Ancestry page.

Elizabeth and Isaac's unsettled lifestyle for the first decade together pointed to their need for stability.  They eventually chose Canada - but why not eke it out where farmland and family were already established?
Isaac was a second generation Fox who missed out having a living handed down to him from his grandparent's famed Hazelbadge Hall farmstead.  Although his father, John, had lived at Hazelbadge, the privelege of the property's legacy fell to John's brother Samuel Fox.  Upon marriage John inherited his first wife's house on Netherside in Bradwell to raise his nine children.  Isaac Arthur was the first surviving boy in the family, working the local farmland crops and cattle.  When he came of age, it must have been an all out competition amongst cousins and second cousins and neighbours to find himself gainful employment for the purchase of his own land.
Isaac's father, John Fox, had reflected that in England "...farming is a lean business", subtly underlying the ambiguous luck needed for a bountiful harvest.  To be fortunate to experience a great crop year would permit a farmer to an agreeable yet humble lifestyle - wholly dependent on the unifying factors of fair weather systems, quality stock, trusted farm equipment and hired help (one's own indomitable spirit doesn't hurt either).  In 1887 a poor crop return would have equalled severe consequences in the ability to forge a comfortable/survivable winter, additionally forcing a farming family to be reduced to trivial mechanisms for the subsequent years' gainful land management.  A future of farming in Canada might have appealed to Isaac and Elizabeth as the lesser of two evils for this harsh way of life.  Canada had rich, virgin soil, a result of newly cleared forested land tasked by previous immigrants who had taken up the common cause of settling in the rough landscape within that century.  Canada also had established small towns showing promise of growth and stability.  And best of all, Canada was huge - there were no other relatives grappling over the same scrap of land.  In short, a voyage over the mighty Atlantic to a strange land for a young family of seven was worth the risk.
On June 28th, 1887 Isaac and Elizabeth and their five children arrived in Canada on the SS Sardinian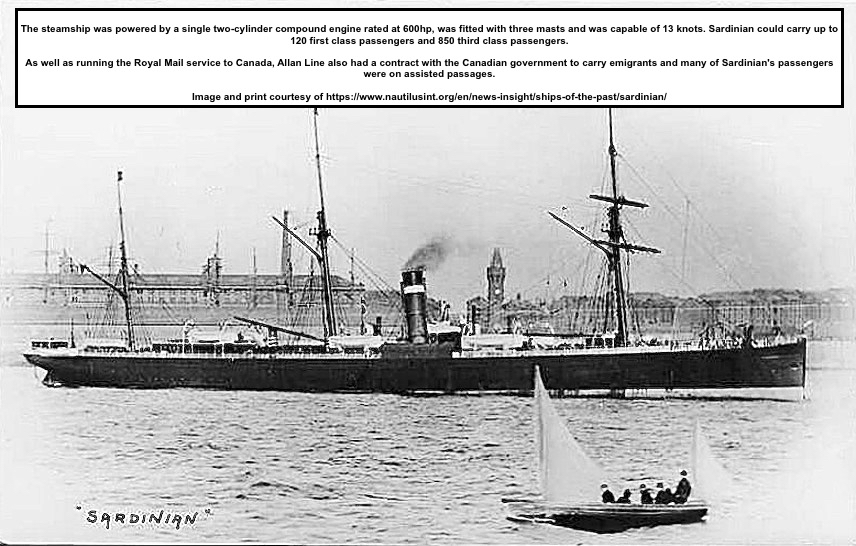 The Fox's Passenger Registry on the SS Sardinian
Isaac A. Fox      Illegible          Age 33
Eliz. Jane           Wife              Age 33
Herbert              Child              Age 9
Richard              Child              Age 8
Geo.                    Child              Age 4
Wilfred               Child              Age 2
Ethel Jane                                 Infant
Port of Arrival:  Quebec
Date of Arrival:  1887/06/28
From Archives Canada:  Microfilm Reel Number: C-4535
Reference: RG 76              Item Number: 573894
http://www.bac-lac.gc.ca/eng/discover/immigration/immigration-records/passenger-lists/passenger-lists-quebec-port-1865-1900/Pages/image.aspx?Image=e003547065&URLjpg=http%3a%2f%2fcentral.bac-lac.gc.ca%2f.item%2f%3fid%3de003547065%26op%3dimg&Ecopy=e003547065
Isaac and Elizabeth won the jackpot as far as immigration goes. With a little money in hand, they had the esteemed privilege of being white, British and farmers - exactly what the decade-old province of Ontario was looking for to expand the population.  They bought a house in Simcoe, but briefly, since Isaac could not find work and Elizabeth did not like the area. The next move was to Hamilton, a town that would eventually reflect the structure of their old stomping grounds of Manchester as a market place and Sheffield in the future steel industry.  Encircled by the protection of the large escarpment, its land had been cleared, swamps drained, and the area boasted healthy agriculture production in fruit and grain within the mix of silt-loam soils unique to the Michigan basin.  Moreover, Hamilton was a crib for industrial ingenuity: established rail lines extended from the large shipping port which allowed for international cargo travel to and from the States.  The city also had one of the first municipal water systems in Canada developed in 1859,  and in 1878 the town won bragging rights by being the host of the first telephone exchange.  It was a place worth writing home about.
Isaac made his living as a Labourer and (market) Gardener, taking advantage of the access to land on the outskirts of the town.  This map from 1893 shows their first house location on Cherry Street along the railroad on the orange line (now Ferguson Avenue), followed by a move to William Street, green line, where Buds was born in 1891, then to 336 and 455 Wentworth North in 1898 - the red line running off the far left. These houses were on the north side of the rail line now known as Industrial sectors A and B. The farmers' market is circled on James St.
Isaac A Fox
 in the 

Canada, City and Area Directories, 1819-1906 /
1891 Census of Canada 

for Isaac Arthur Fox 
Click on the map to enlarge the view in a new tab.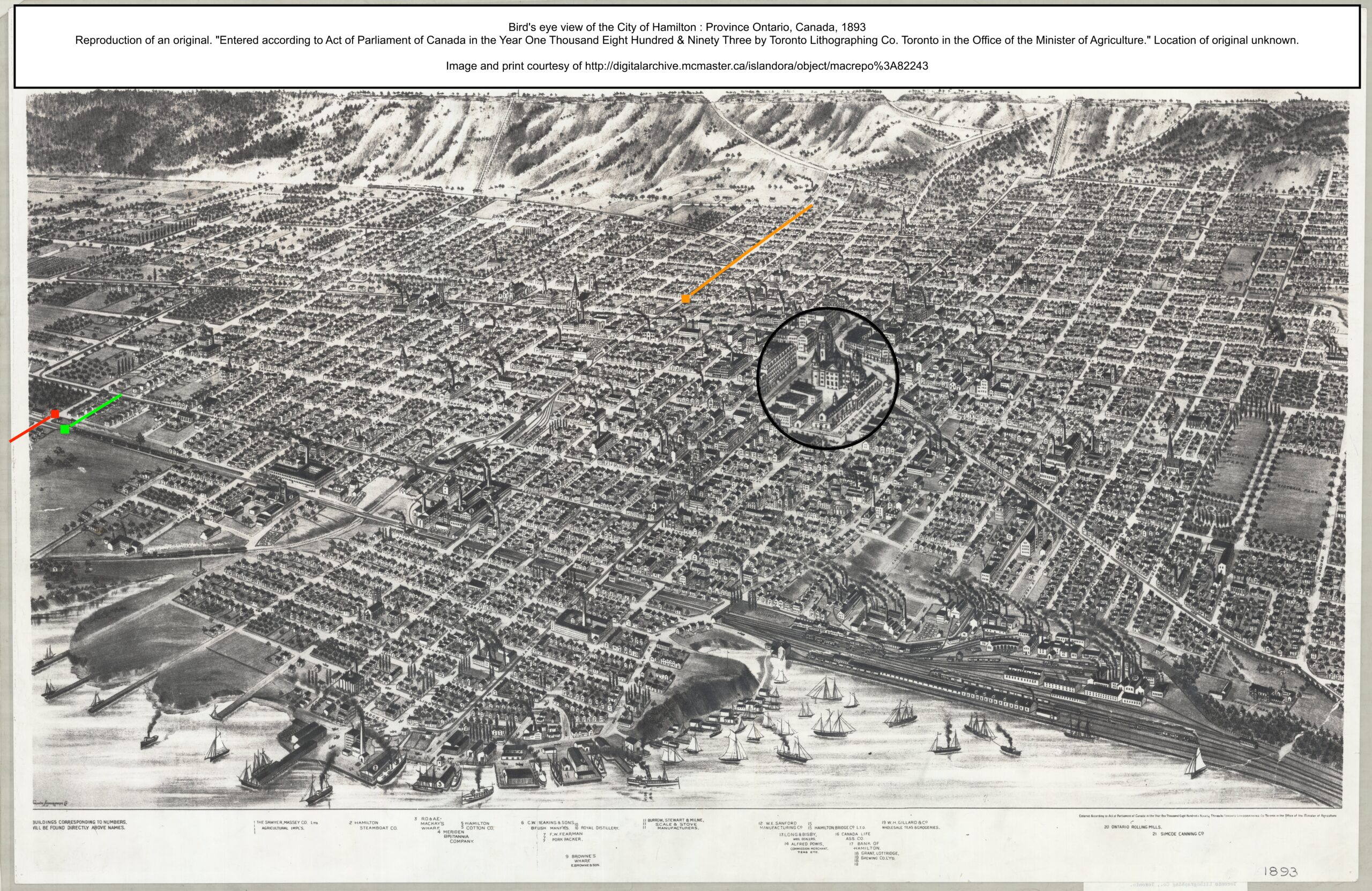 From the Canadian Encyclodpedia:  
In the late 19th and early 20th centuries, urbanization expanded the demand for market gardening around cities and more specialized crops in different regions. These included orchard farming in Niagara Peninsula, Prince Edward and Elgin counties, and tobacco in Essex and Kent counties. Dairying developed on the fringes of cities and cash crop acreages declined in favour of feed grains and fodder, while beef producers were unable to meet the domestic demand. Throughout rural Ontario there were farm-initiated associations of stockbreeders, dairy farmers, grain growers, fruit growers, etc., as well as the government-initiated Farmers' Institutes and Women's Institutes. The associations reflected a faith in farm life in the face of rural depopulation and an industrializing society. Various farmer-initiated groups worked in the United Farmers of Ontario movement, which formed the provincial government in 1919 under E.C. Drury.
https://www.thecanadianencyclopedia.ca/en/article/history-of-agriculture

No names are written on this photo. The identities of the children are extrapolated based on the fact that Ethel had died within her first year, so the toddler on Isaac's lap cannot be her, nor can the baby on Elizabeth's lap since Ethel was the 5th child to be born and there are six children shown here.
Life was not smooth sailing once the Fox family had settled.  Baby Ethel Jane suffered convulsions and within eight months after immigrating, passed away in February 1888.  Isaac Arthur lost two fingers in a work accident (encircled in above photo), and money must have been tight since in the 1891 census young Herbert is already at work as an office florist to help buoy living expenses.  This early family photo coincides with the census:
1.

proudly employed Herbert is standing tall at 13 years, Richard is 12 years, George is 8.  Wilfred sitting on the stool is 6 years old and flanked by his parents who are both 37, holding two-year old Reginald and baby Arthur (Buds)

1. Herbert Fox: 1891; Census Place: Ward 7, Hamilton City, Ontario, Canada; Roll: T-6342; Family No: 477
The family is well-groomed and all the children wearing shoes, however there was difficulty managing debt.  Isaac Arthur had sent out a plea to borrow funds to help settle financial matters.  By reply in an undated letter from Isaac Arthur's brother George - likely written in 1893:
 I am very sorry Arthur that I cannot help you in your undertaking as I being married & all my monies gone in building a cage.  But I do wish you all everyone one of you a successful & bright career.  My dear boy, you must not get daunted, there are brighter things ahead.  You will get over this small financial difficulty.
Two years later in 1895 Isaac Arthur's father John passed away.  It took waiting another five years before a small inheritance was eventually forwarded to him once his siblings had settled the estate.
We have some money in the bank which we are going to divide up & we all agreed (although Father didn't leave you in his will) that you shall share along with the rest of us.  There will be about 49 odd pounds each after paying for a tombstone & I want to know how you would like this money sending, whether you will have a banker's draft & if so on what bank? Or in what way shall I send it on to you.  When you have decided will you please let me know & I will forward it & then you must send me the receipt as soon as you have received it.

Hannah R Somerset (Isaac's sister), Nov. 29, 1900
There was one security Isaac and Elizabeth would fall back on throughout their struggles, and that was to have more children.  The last three offspring joined the Foxes by the years' end of 1898.  The 1901 Census lists the entire family of eleven living together in one house:  Hamilton Ward Seven - Isaac 47 -Gardener, Elizabeth.  47, Herbert, 23 - Pattern Maker, Richard.  22 - Gardener, George 18, Wilfred 16, Reginald 12, Arthur 11, Maud 8, Walter 5, Fred 3. 
 Herbert Fox: 1901; Census Place: Ward 7, Hamilton City, Ontario, Canada;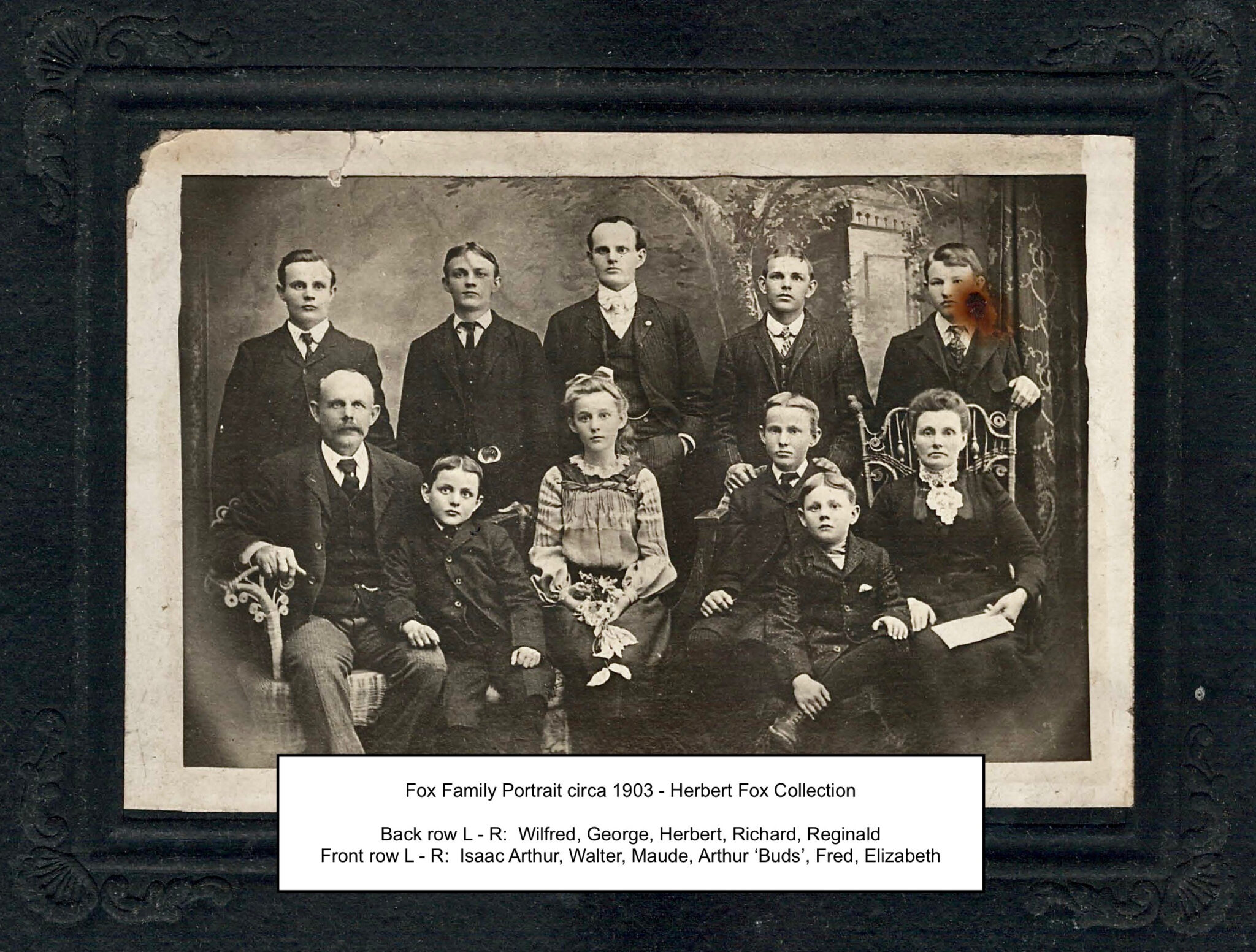 The early century brought good things.  Joining him in Canada, Isaac's sister, Emma Jane Jeffery had newly immigrated with her whole family in 1904.  They settled in Toronto at first, with a move a few years later to the Muskokas.   In this same year, Isaac Arthur and Elizabeth said goodbye to their cramped quarters in Hamilton as the family packed their bags for Dunnville, Ontario where they rented a house close to town.  Bigger news yet was the monetary windfall in 1908 when a large inheritance came from an Uncle and Aunt Horatio in Bradwell.  The timing couldn't have been better; their prosperous years of buidling a family produced a clutch of capable children to help them set up a house of their own and aid in farm operations.
A year later in 1909 in their fifties and after having lived in Canada for 20 years, Isaac and Elizabeth had bought land, built a house and produced cash crops and livestock for themselves along the Grand River in Dunnville.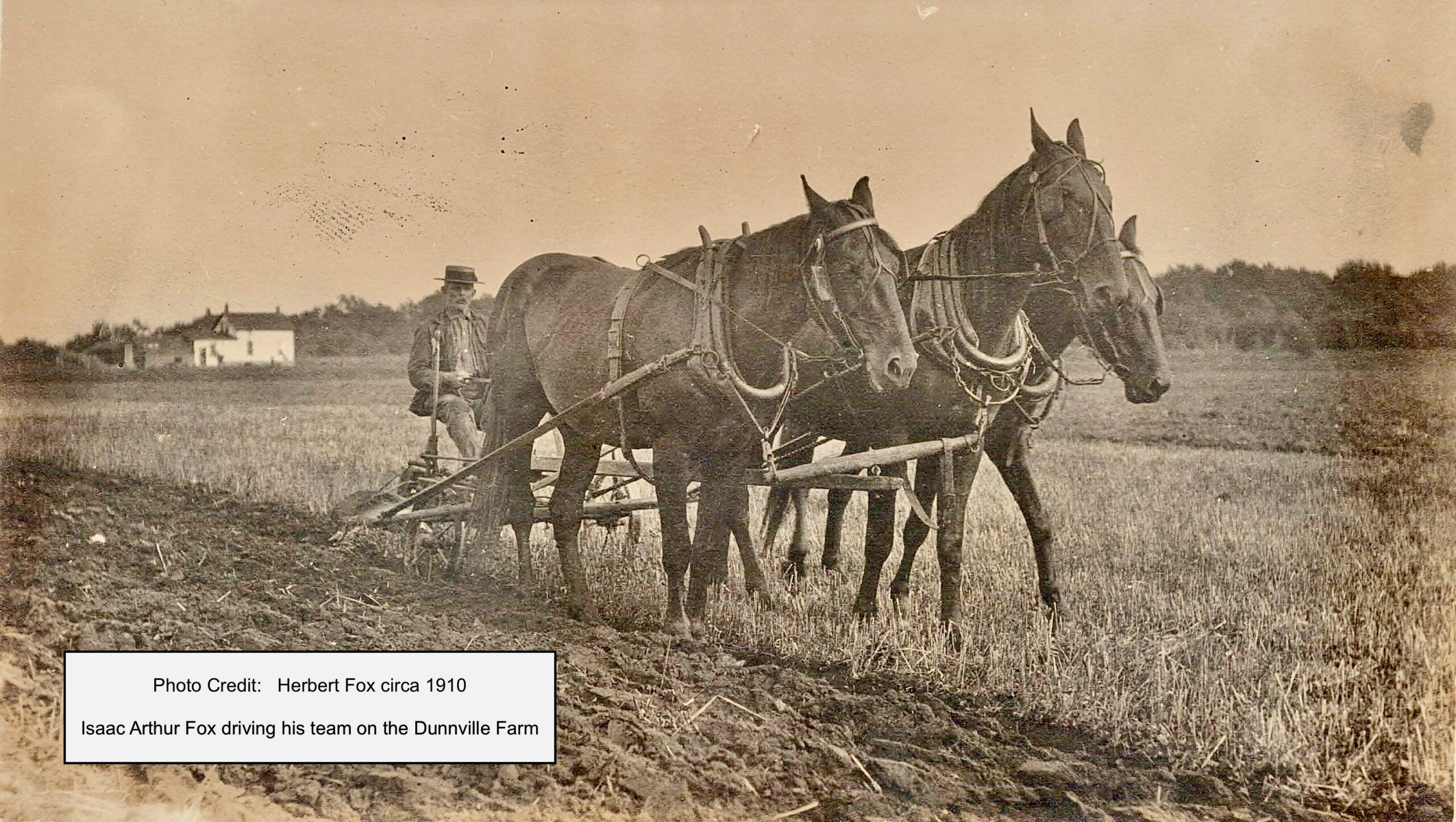 Just as the youngest children were settling into school locally in Dunnville, the older children were leaving home to begin their lives independently.  Herbert married in 1903, and again in 1906, Wilfred in 1907, Reginald in 1909, Maude and Richard both in 1915, and Walter in 1921.  George left to travel the world, and Arthur remained alone on the farm after both his parents had passed, only marrying in 1936.
World War I broke out in 1914, funnelling tragic life events that splintered through Isaac and Elizabeth's enjoyment of home and community.  George and Reginald signed up to fight for other allied countries, Wilfred and Fred enlisted to aid Canada - Fred was killed after a year of fighting.  George and Wilfred were gassed by the enemy a few years apart and they were sent to recuperate in the Hamilton Sanitorium. George was discharged and moved to British Columbia where he passed away from an illness in 1919; Wilfred's illness gradually became worse and he succumbed to his war injuries at the Sanitorium in 1922.  Reginald, having left his first wife and children before the war started, never returned, and started a new life in Michigan.
In 1921 Elizabeth and Isaac were compelled to go back to England for a two-month visit.  To join family not seen in over thirty years, perhaps to witness Fred's burial site in France, and most likely to collect inheritances owed to them judging by how much money they carried on their return: Isaac had in his possession $900 - worth $11, 709 in Canadian dollars today,  Elizabeth had $600, a modern $7, 806.  In a small booklet belonging to Isaac, a travel log reads that they 'left home at Dunnville, Ont for England at 1:30 pm in car of Andy and Maude to T.H. & B Station to Hamilton.  Left Hamilton at 8pm on the CPR June 17th for Montreal'.  They arrived in Liverpool on the SS Megantic June 26, 1921

1. 

and sailed back to Canada in August after filling out the customs documents below.
Also written in the travel log: Mrs. Evelyn Fox (Isaac's sister-in-law), 40 Percy Street, Ellor St.  Pendelton, N. Manchester, 2 children - Evelyn and Robert, a city map and guide of Manchester and Ashton-Under-Lyne, and Bradwell-Netherwater - names of cousins - Mary Alice, Clara, Louisa.
1. Eliabeth Fox
UK and Ireland, Incoming Passenger Lists, 1878-1960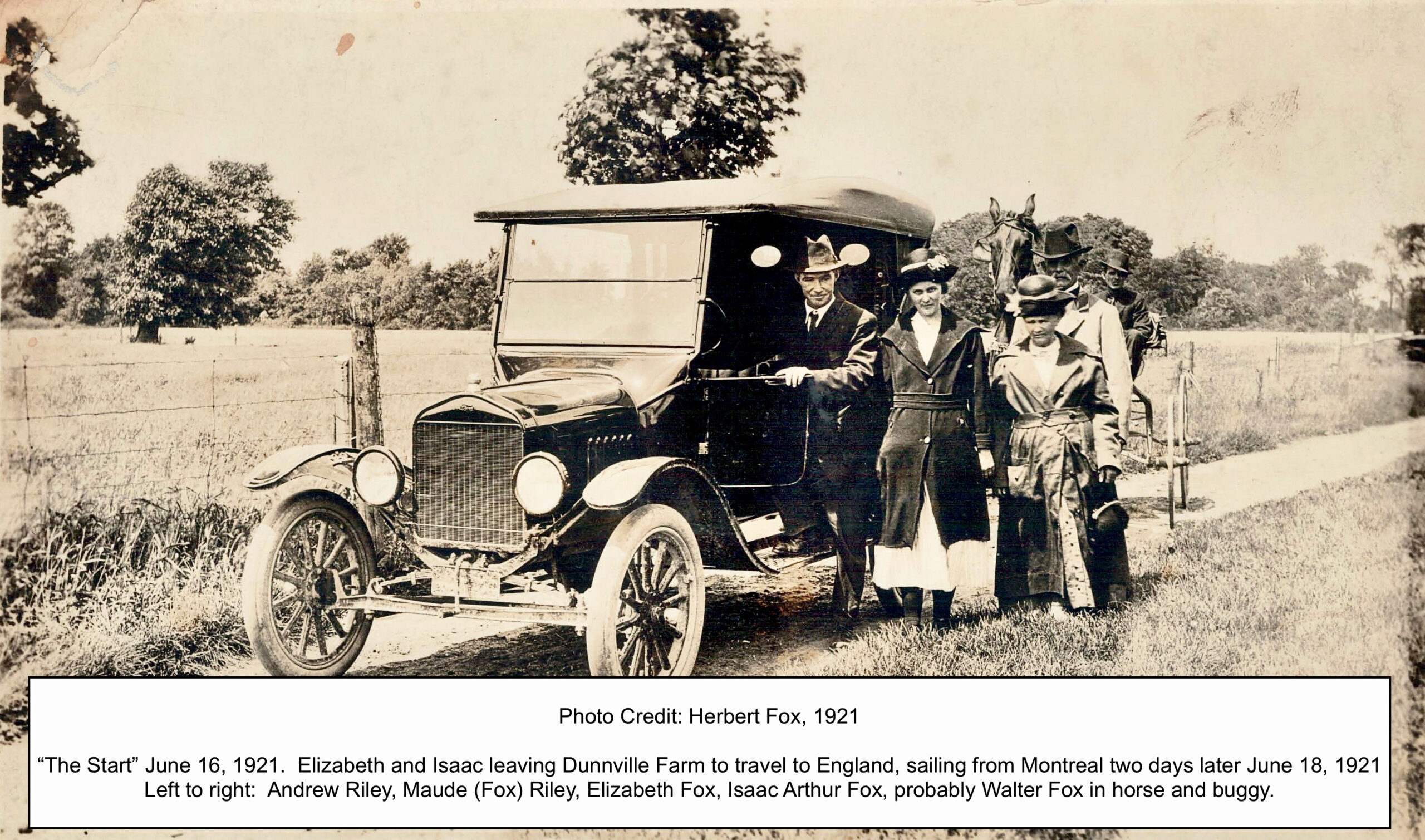 Canada, Ocean Arrivals (Form 30A), 1919-1914
From the Public Library Micromedia, Ancestry Canada - Library Archives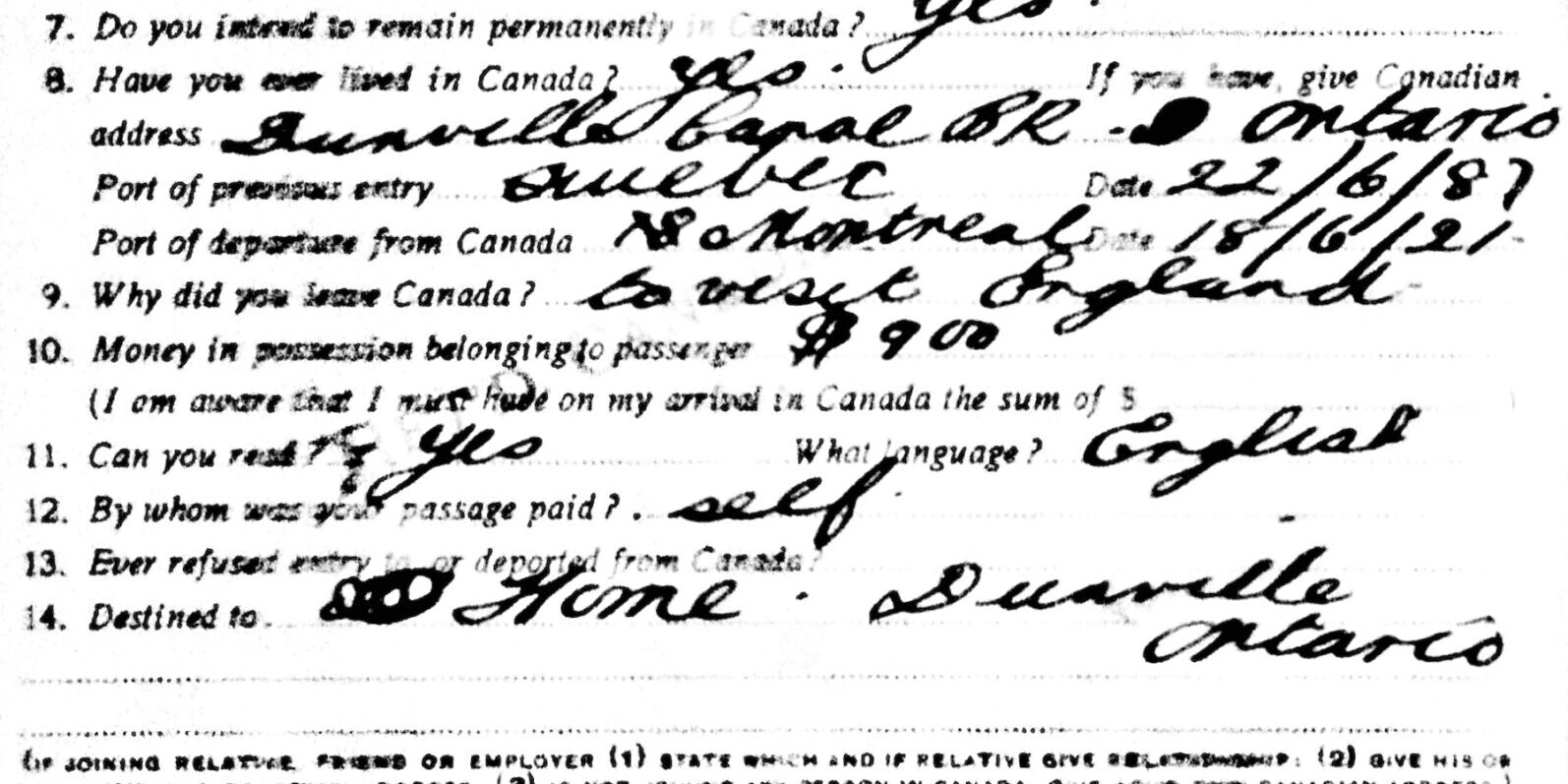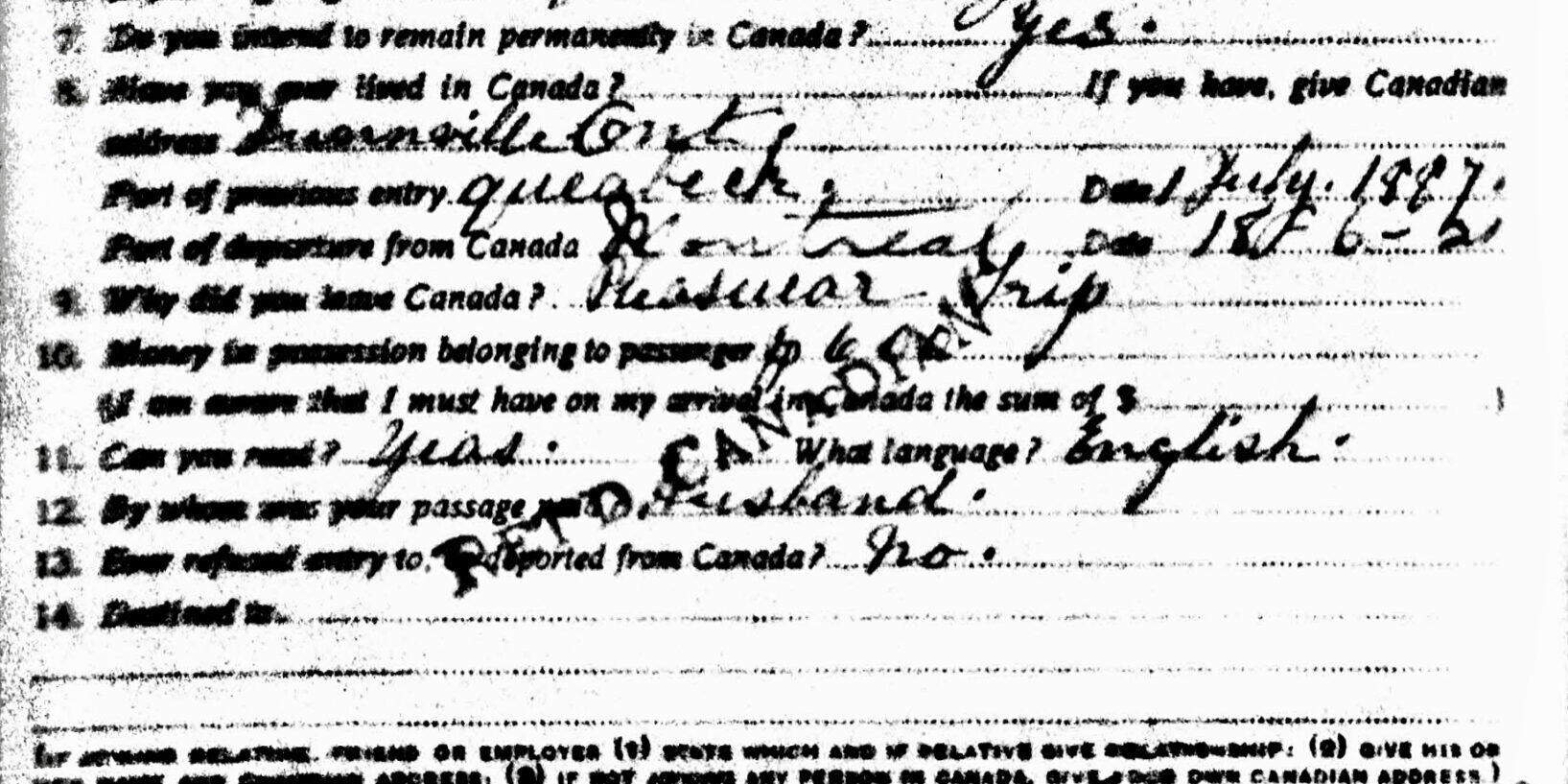 Form 30A   33  8585
SS Megantic                            Date of Sailing:  August 24, 1921
Declaration of Passenger to Canada
1. Name: Fox I.A.
2. Sex:  M. Are you married, single, widowed or divorced? M
3. Present occupation: Farmer   Intended Occupation:  same
4. Birthplace: Derbyshire Race or people:  English
5. Citizenship: British      Religion:  C of E
6. Object in going to Canada: to settle
7. Do you intend to remain permanently in Canada? Yes
8. Have you ever lived in Canada? Yes.   If you have, give Canadian address:  Dunville Canal BR, Ontario
Port of previous entry:  Quebec   Date:  June 22, 1887
Port of departure from Canada:  Montreal        Date: June 18, 1921
9. Why did you leave Canada? To visit England
10. Money in possession belonging to passenger $900
11. Can you read? Yes   What language?  English
12. By whom was your passage paid? Self
14. Destined to: Home.  Dunville Ontario
16. Nearest relative in country from which you came? Sister Mrs. Somerset, Hillsbro' Rd Sheffield
17. Are you or any of your family mentally defective? No Tubercular? No  Physically defective?  No
I declare the above statements are true:  I am aware that an inaccurate statement constitutes misrepresentation and that the penalty is a fine, imprisonment, or deporation.
Signature of passenger  Isaac Arthur Fox
I hereby declare that the above is the signature of passenger and that I have handed passenger a copy of Immigration Booklet 30A.  Sig. of Booking Agent M S Dom Luis (?) Liverpool
Form 30A   33  8585
SS Megantic                            Date of Sailing:  August 24, 1921
Declaration of Passenger to Canada
1. Name: Elizabeth Jane Fox  Age. 67
2. Sex:  Married. Are you married, single, widowed or divorced? Isaac A. Fox.
3. Present occupation: Farmer   Intended Occupation: 
4. Birthplace: Manchester Race or people: 
5. Citizenship: British      Religion:  Chirch of England
6. Object in going to Canada: for Farming
7. Do you intend to remain permanently in Canada? Yes
8. Have you ever lived in Canada? Yes.   If you have, give Canadian address:  Dunnville  Ont.
Port of previous entry:  Quebeck   Date:  1 July, 1887
Port of departure from Canada:  Montreal        Date: June 18, 1921
9. Why did you leave Canada? Pleasuear Trip
10. Money in possession belonging to passenger $600
11. Can you read? Yeas   What language?  English
12. By whom was your passage paid? Husband
13. Ever refused entry to or deported from Canada? No
15. By which Candadian railway are you travelling to destination? Canadian P.C.
16. Nearest relative in country from which you came? Hannah Wragg.Sister, Neather water, Hazel batch, via Buxton, Derbyshire

I declare the above statements are true:  I am aware that an inaccurate statement constitutes misrepresentation and that the penalty is a fine, imprisonment, or deporation.
Signature of passenger  Elizabeth J. Fox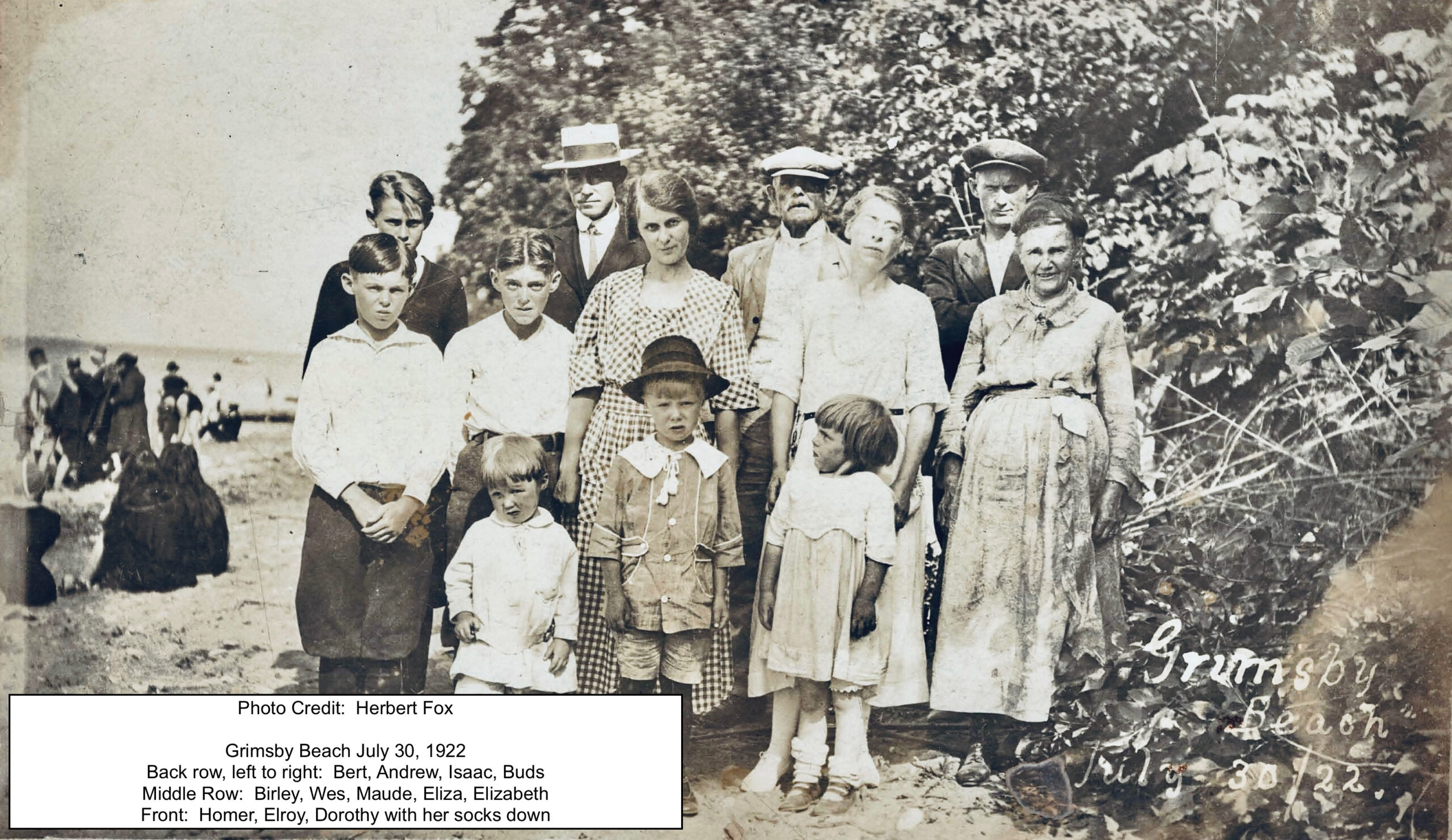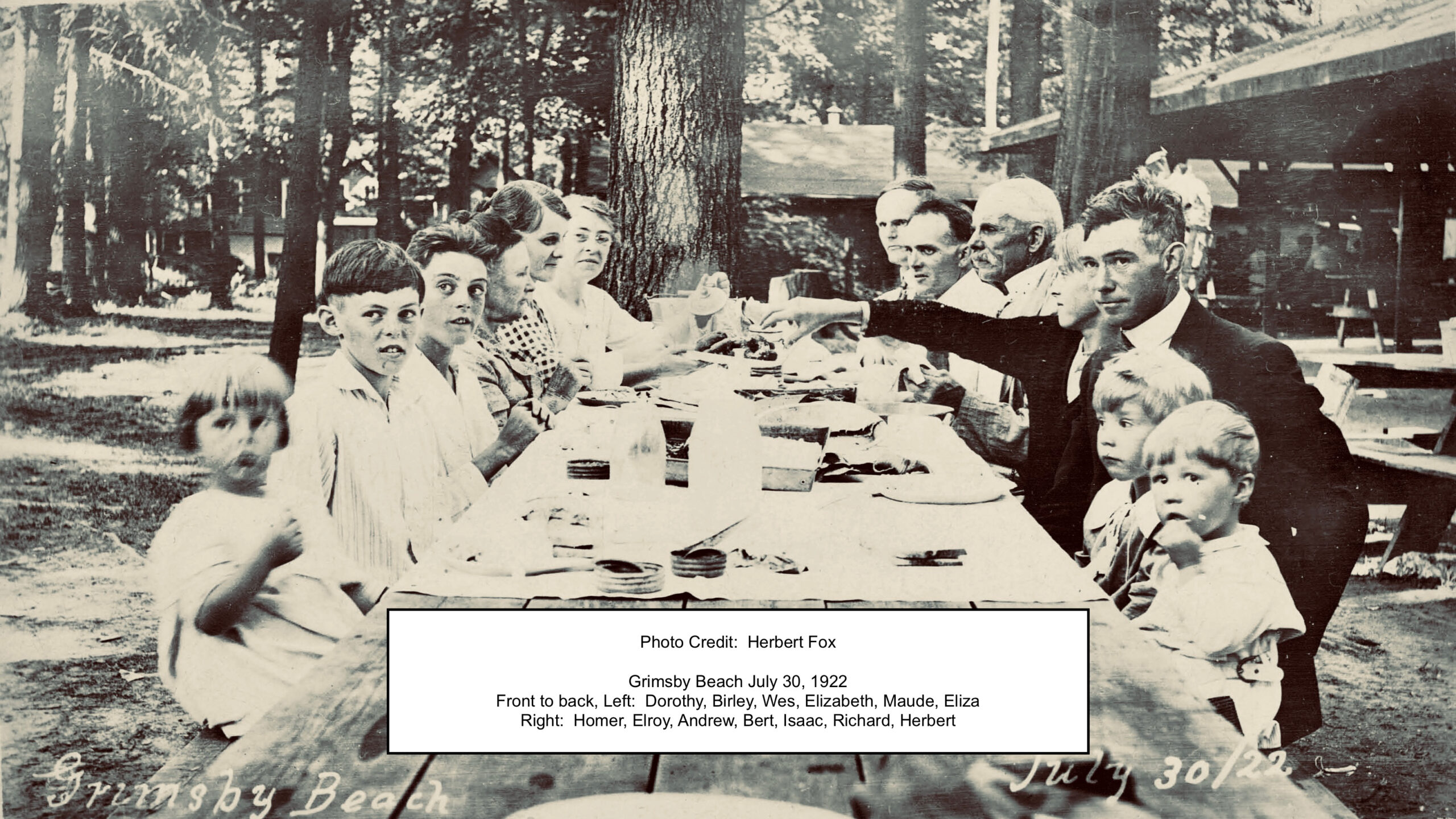 In the final years of family gatherings.  A happier day on the beach, reuniting months after Wilfred died at the Hamilton Sanitorium.
Elizabeth passed away on June 14, 1925.
Ontario, Canada, Deaths and Deaths Overseas, 1869-1947 

for Elizabeth Jane Barnaley Fox
Elizabeth Jane Fox
The death occurred of Elizabeth J. Barnesly, wife of I.A. Fox on Sunday night, June 14, 1925, at her home in Moulton, one mile east of Dunnville. Deceased had been in failing health for some time. The end was not unexpected and her family were at her bedside when the end came. She had lived here for the last 32 years, formerly residing in Hamilton.
Left to mourn her loss are her husband, four sons, Herbert and Richard B. of Hamilton, Arthur and Walter at home and one daughter, Mrs. A.J. Riley of Forks Road.
The funeral took place on Wednesday at 2 o'clock from her late residence to Riverside Cemetery, service being conducted by Rev. W.J. West of Knox Presbyterian Church. The pallbearers were Messrs. Wm. Eaglesham, A.C. Fletcher, George McIntee, Joseph Mumby, Wm. Spence and Wm. Thompson.
The large gathering of her many friends and the beautiful floral tributes testified to the esteem in which she was held and to the husband and family is extended the sympathy of the entire community.
Moulton
Elizabeth Jane Fox, Housewife, married, English origin. Born Manchester, England, October 29, 1853. Daughter of Richard Barnesly and Elizabeth Hill, Derbyshire, England. Died age 71 of apoplexy, 3 days. At place of death 22 years.
Informant: Isaac Arthur Fox, RR 6, Dunnville. Buried Dunnville.
August 28, 192...

Mr. (Herbert) Fox
Ever since we got your letter telling us of your Mother's death, we're intended writing to you. We are very sorry. She was not left a little longer with you but so glad she was able to visit the dear homeland before she passed to the Great Beyond. Each time Mother went to Bradwell for a little rest, she took and addressed envelope to will to your Mother. It is in her case now & has been for two years. Mother so often speaks of the happy week she spent with you & is doubly glad she did so now.

Elsie Dakin, Ashopton
Isaac Arthur passed away on January 4 1931 of senility and artiosclerosis.
1.

His sister writes in a letter to Herbert:
March 19th 1931

My Dear Nephew,

I received a letter from Auntie Delia the other day with an enclosure of your father's death. I was very sorry to hear of his long tedious illness. He must have been a great trouble for you, all this life would not be a joy but an existence, so we cannot mourn or wish he was longer as one feels he is better off now, though we all feel it is another tie broken.

..I have not heard from Auntie Jennie since Christmas but she told me then how helpless & blind my brother was.

Auntie Hannah R. Somerset

44 Lismore Rd.  Sheffield
1. Ontario, Canada, Deaths and Deaths Overseas, 1869-1947

for Isaac Arthur Fox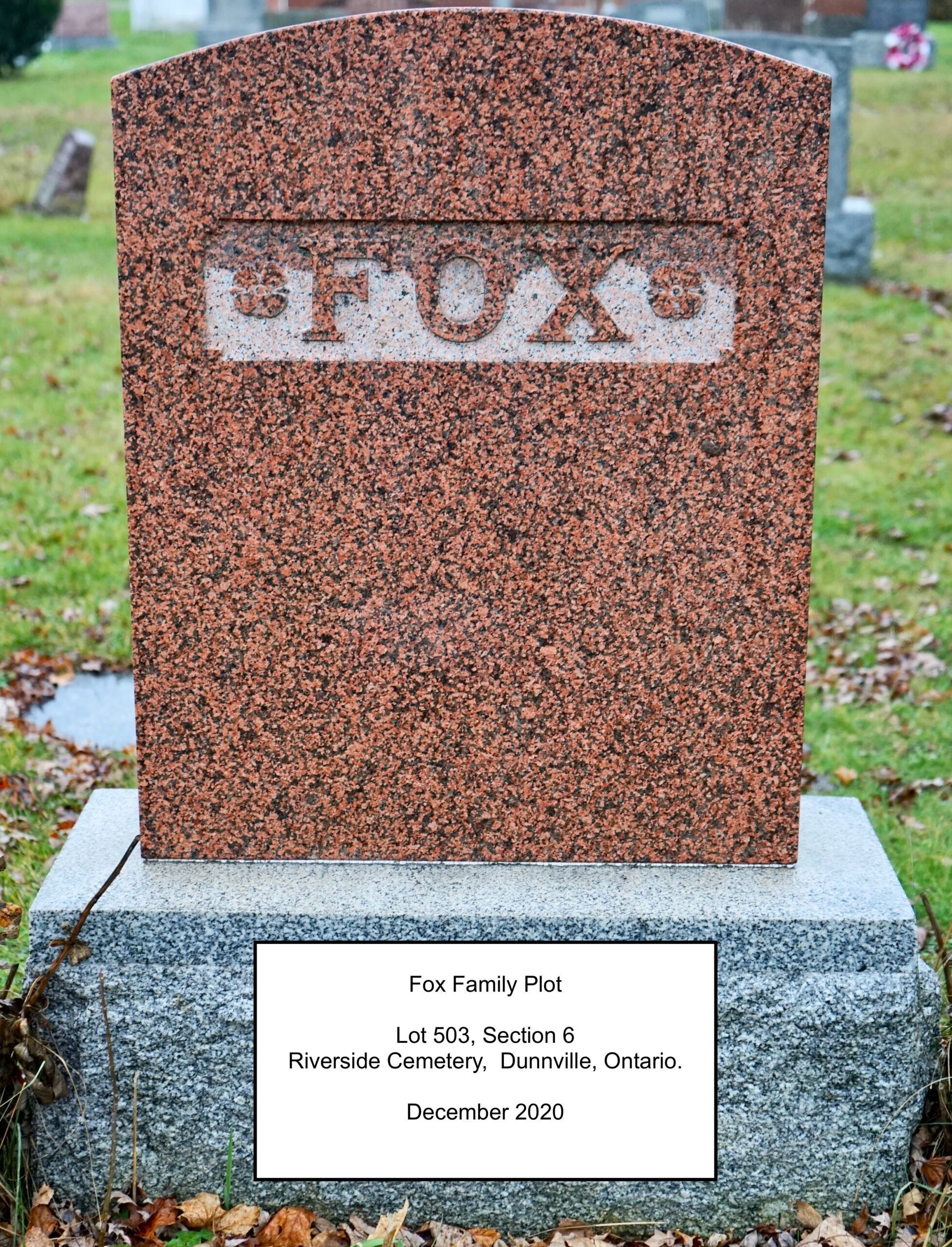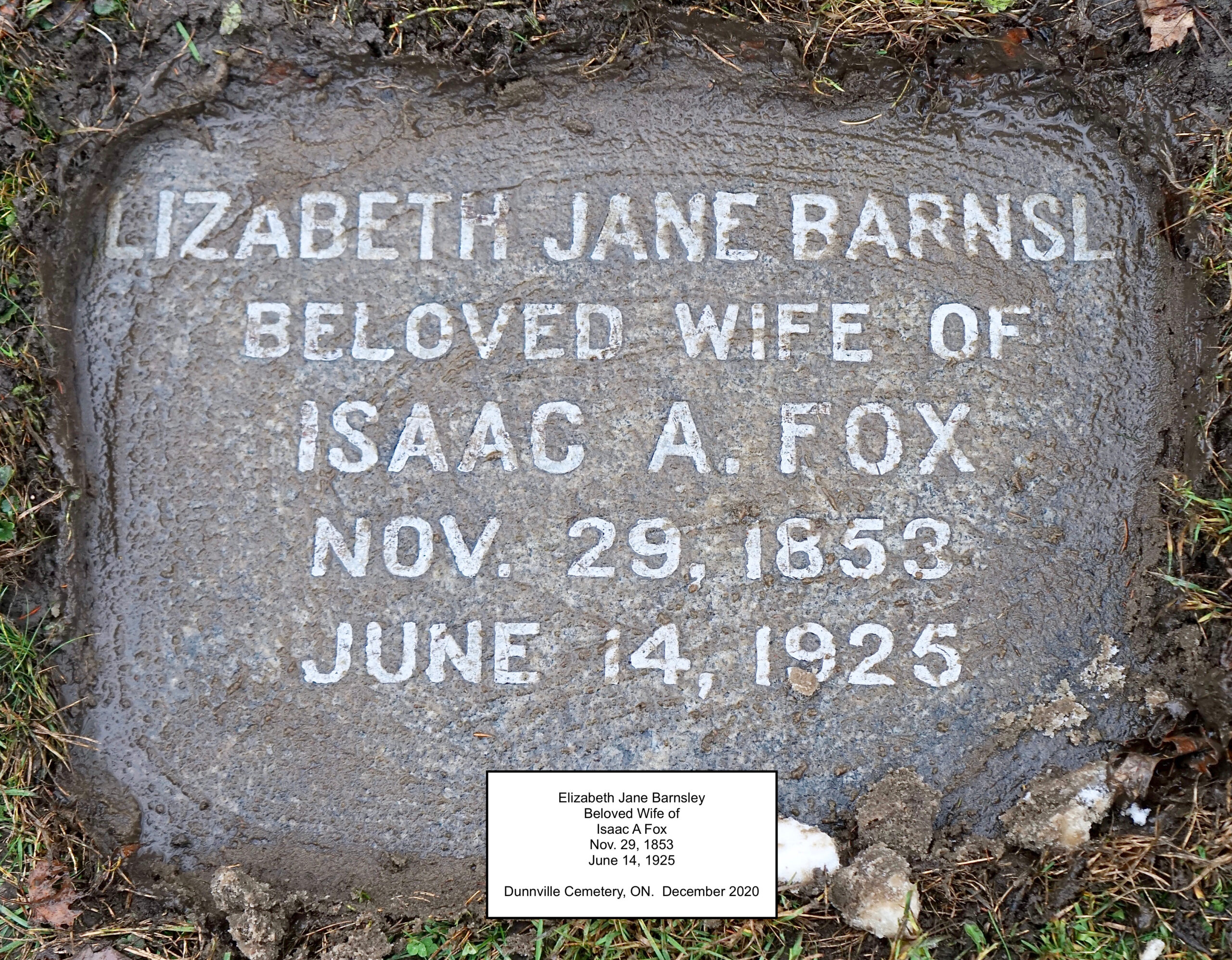 The Children
Click on the thumbnails to open the photos in full
Herbert Fox
June 24, 1877 Bradwell, Derbyshire, England - August 8, 1969 Hamilton, Ontario, Canada

Married Alberta Minerva Strowbridge (1882 - 1903) in 1903
Married Eliza Emma McCarthy (1879 - 1953) in 1906
Five Children:  Herbert Barnsley (1907- 1981), Elmer Bradwell (1908 - 1908), Wesley Maxwell (1909 - 1988), Walter Birley (1910 - 1978), Dorothy Maude (1918 - 2003)
1891 worked as an Office Florist, 13 years old  1891 Census of Canada 

for Herbert Fox
1901 worked as a Pattern Maker, 23-years old and lived with his parents and siblings in Hamilton.
1.

Professionally trained, Herbert was part of Hamilton's Pattern Maker's League.  He was employed by International Harvester to sell combines and he along with friend Thomas Arthur Woolley attempted to patent a self-driving combine called the "Fox Shocker" In the 1930's Herbert worked for Smart Turner.  His third son, Wes, also worked at Smart Turner.  His first son, Bert, worked at Stelco and was a recognized member of the Royal Astronomical Society of Canada, Hamilton Branch.  His second son was an electrical estimator and part of a startup - SWIFT & Co. 1. 1901 Census of Canada

for Harbert Fox
Enlisted as a Volunteer Militia in the Canadian 
Army

 13th Regiment from 1895 at 18 years to 1927 when he was 50, holding positions first as Private, Corporal in 1910 and Sergeant in 1916. He received the Colonial Auxiliary 

Forces

 Long 

Service

 medal in 1916.
On the Board of Management for St. Andrews Presbyterian Church.
Member of the DOKK's and travelled to their competitions.  Read more about Herbert and Eliza's life together.
Richard Barnsley Fox
March 18, 1879 Bakewell, England - 1957 Hamilton, Canada 1881 England Census 

for Richard Fox



Married 1915 - 1944 to Ellen Darby (1872 - 1944)  Ontario, Canada, Marriages, 1826-1937 

for Richard Barnsley Bansley Fox
1901 Worked as a Market Gardener, 21 years old 1901 Census of Canada 

for Richard Fox
1911 Worked as a Farmer with his mother and father in Moulton, 31 Years old 1911 Census of Canada 

for Richard Fox
1915 Worked as a Blacksmith
As a young adult Richard stayed at brother Herbert's house on Gibson street while working in Hamilton.  Richard (Uncle Dick) was remembered by his great-niece to have large blue eyes and a calm and gentle disposition.  He and Ellen, who was deaf, were childless and doted on his siblings' children and grandchildren celebrating them with gifts on their birthdays.  Richard enjoyed woodworking projects; he fixed furniture and built a dollhouse modelled on the likeness of Herbert and Eliza's place at 257 Balmoral Avenue (more detail on the Archives page).  Ellen passed away at age 62, and Richard at 77 years.
A quiet wedding took place in St. Matthew's Church, Hamilton, on Wednesday evening, December 15, 1915, Rev. E. White officiating, when Miss Nellie Darby, eldest daughter of Mr. and Mrs. Alf. Darby, Sr., of that city, was united in marriage to Mr. Richard Barnsley Fox, son of Mr. and Mrs. Isaac Fox of Dunnville.
Mr. and Mrs. Fox were at home to their friends on Tuesday, December 20, afternoon and evening, at 327 Wentworth St.N., Hamilton.
At Hamilton, by Rev. H.E. White, Church of England, Richard Barnsley Fox, 38, bachelor, blacksmith, born Manchester, England, residing Hamilton, son of Isaac Arthur Fox and Elizabeth Barnsley, Presbyterian, to Helen Darby, 44, spinster, born Lawton(?), England, residing Hamilton, daughter of Alfred(?) William Darby and Mary Elizabeth Piper (Fisher??), Church of England. Witnesses: Amelia Gage and Helen White, Hamilton.
Richard (buried February 25, 1957)
Ellen (buried August 24, 1944)
Laid to rest in the Woodland Cemetery
Section 24 Lot E 1/2 488
George Fox
April 26, 1882, Sheffield, England - October 11, 1919, Kamloops, B.C., Canada
George Fox
 in the 

Canada, Find A Grave Index, 1600s-Current
1901 Worked as a Market Gardener, 19 years old  1901 Census of Canada 

for George Fox
1902 Signed up for the Boer War
1914 Fought in World War I, Represented Country unknown.
George's early wanderlust and penchant for keeping his distance from his family was a personal trait that stayed with him in his adult life.  His need for detachment must have caused his parents grief; his British aunts reflected on his actions in their correspondence, singling him out from the rest of his siblings.
Tell Elizabeth that I send my best love to her and all the children and hope you will hear of your missing son doing well and in the best of health.

Jemima Fox - Issac's sister, January 1st, 1901
I was very glad to receive your long letter of Dec. 18th & to hear so much about your family and country, but was sorry to hear George was absent  & that you hadn't any idea where he was.  It must be a great anxiety, I am sure.

Hannah Somerset - Issac's sister,  January 9th, 1901
We were sorry to hear George had been so near & yet so far, not to have called to see us all, but we are all very glad the (Boer) war is over.  I think George has got a roving disposition.

Hannah Somerset - Isaac's sister, September 4th, 1903
George served for Canada in the Boer War between April 1902 until it's end a month later in May.   nb - his military involvement six months prior with Kitchener's Fighting Scouts already had him in action for the British.
For George's Complete Boer War Records:
Canadian Mounted Rifles Attestation Paper
1. What is your name?  George Fox
2. In what township or Parish and in or near what town and in what County or Country were you born? Manchester, England
3. What is the name of your next of kin? Isaac Arthur Fox
4. What is the address or your next of kin? 455 Wentworth St. North, Hamilton
5. What is your age? 20 years
6. What is your Trade or Calling? Gardener
7. Are you an Apprentice? No
8. Are you Married? No
9. Do you now belong to the Active Militia? No
10. Have you ever served in His Majesty's Imperial Army, Marines, Navy, or Indian Forces, or in any Corps of the Active Militia of Canada North-West Mounted Police? Yes, Kitchener's Scouts, six months, and have discharge.
11. Have you ever been rejected as unfit for His Majesty's Service or for his Majesty's Indian Forces, the Active Militia of Canada or North-West Mounted Police? No
12. Do you understand the nature and terms of your Engagement? Yes
13. Are you willing to be attested to serve in the Canadian Mounted Rifles for a period of 12 months or until the termination of the present war in South Africa? Yes
Signature:  George Fox           Witness:  F. L. Lessard Col
Description of Geo. Fox
Age apparently – 20
Height – 5 ft 4 ¾ inches
Breast measurement  - minimum 32 ½ inches at full expiration, maximum expansion 36 inches at full inspiration
Complexion - ?
Eyes (Colour) – Blue
Hair – Light
Any distinctive mark – Scar near left breast
Religious denomination – Church of England
The above – named Recruit has satisfied me that he is a fair rider and a good shot, and being qualified in other respects I have enlisted him   F.L. Lessard Col.  Recruiting Officer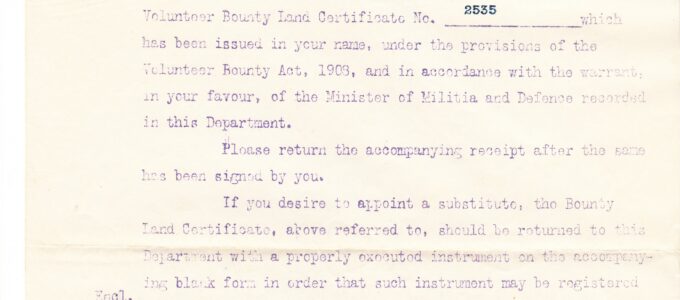 To:  George Fox, 2 William St., Hamilton, Ontario
DEPARTMENT OF MILITIA AND DEFENCE,
OTTAWA, DEC 7, 1908
SIR,
I have the honour to inform you that under the provisions of the Volunteer Bounty Act 1908, Land Warrant dated DEC 1 1908, and bearing No. 2543 entitling you to either two adjoining quarter sections of Dominion Lands, available for homestead entry, or scrip to the value of $160, had been forwarded to the Department of the Interior, Ottawa.  Will you, therefore, be so good as to address all future correspondence on this subject to the Deputy Minister of that Department.
I have the honour to be, Sir, Your obedient servant,
E.F. Jarvis
Secretary,
Department of Militia and Defence.
DISCHARGE PAPERS WILL BE RETURNED LATER
Do Not Write About More Than ONE Subject In The Same Letter – Write Legibly Your Full Name And Address.
Address Your Reply
'To The Secretary
Department of the Interior Ottawa'
Department of the Interior Canada 2543 Ottawa
In Your Reply Please Quote This File No.  1732129
Dec. 21 – 8
Sir,
I am directed to enclose herewith, South African Volunteer Bounty Land Certificate No. 2535 which has been issued in your name, under the provisions of the Volunteer Bounty Act, 1908, and in accordance with the warrant in your favour, of the Minister of Militia and Defence recorded in this Department.
Please return the accompanying receipt after the same has been signed by you.
If you desire to appoint a substitute, the Bounty Land Certificate, above referred to, should be returned to this Department with a properly executed instrument on the accompanying blank form in order that such instrument may be registered here. (ENCL.)  The Bounty Land Certificate will the be returned with the necessary authority endorse thereon, permitting your substitute, if eligible, to enter for two adjoining quarter sections of Dominion Lands available for homestead entry as if he were the original grantee.
A copy of the Departmental Regulations, respecting land grants to volunteers, or their substitutes, is also sent to you, herewith, enclosed.
Your obedient servant,
Perley C Keyes
George returned to travelling on his own and kept in touch with his family through letters.  His whereabouts and employment are not listed on any Canadian census. His adventures are exposed in his sister's letters to him.
To:  George Fox, 436 Pandora St., Victoria B.C.

Received your most welcome letter on March 23 and was glad to hear that you are well and hope you are taking the right way...

....we think he (Wilfred)  is doing fine his wife is Scotch her name is Martha and rather good looking -  just the kind you ought to have, she would make you stay out of bad company.

..Many thanks for the five dollars.  Write soon. Yours truly, Maude.

From Dunnville Ontario, March 27, 1910
We were very much surprised to hear the news of your letter that you didn't like Australia as we all thought it was the only place.

Maude Fox, April 23, 1912
George fought in World War I, was gassed in battle and recouperated at the Hamilton Sanitorium.  For some reason his life was not spoken about after he was discharged.  Handwritten family records guessed that this is where George's story stops, concluding he either returned to Australia, or that he died sometime before his brother Wilfred as stated in the frail original document of Wilfred's obituary - two brothers, George and Fred  "Gave up their lives in the great war".  Finding the record of George's Memorial solves his unknown fate, that he passed away at Tranquille TB Hospital in British Columbia on October 11, 1919 at age 37.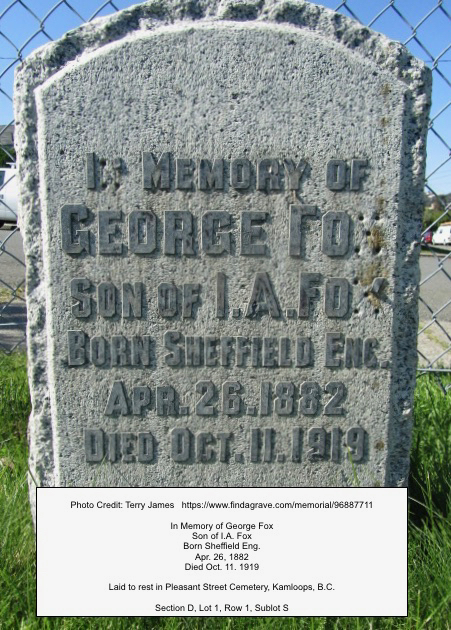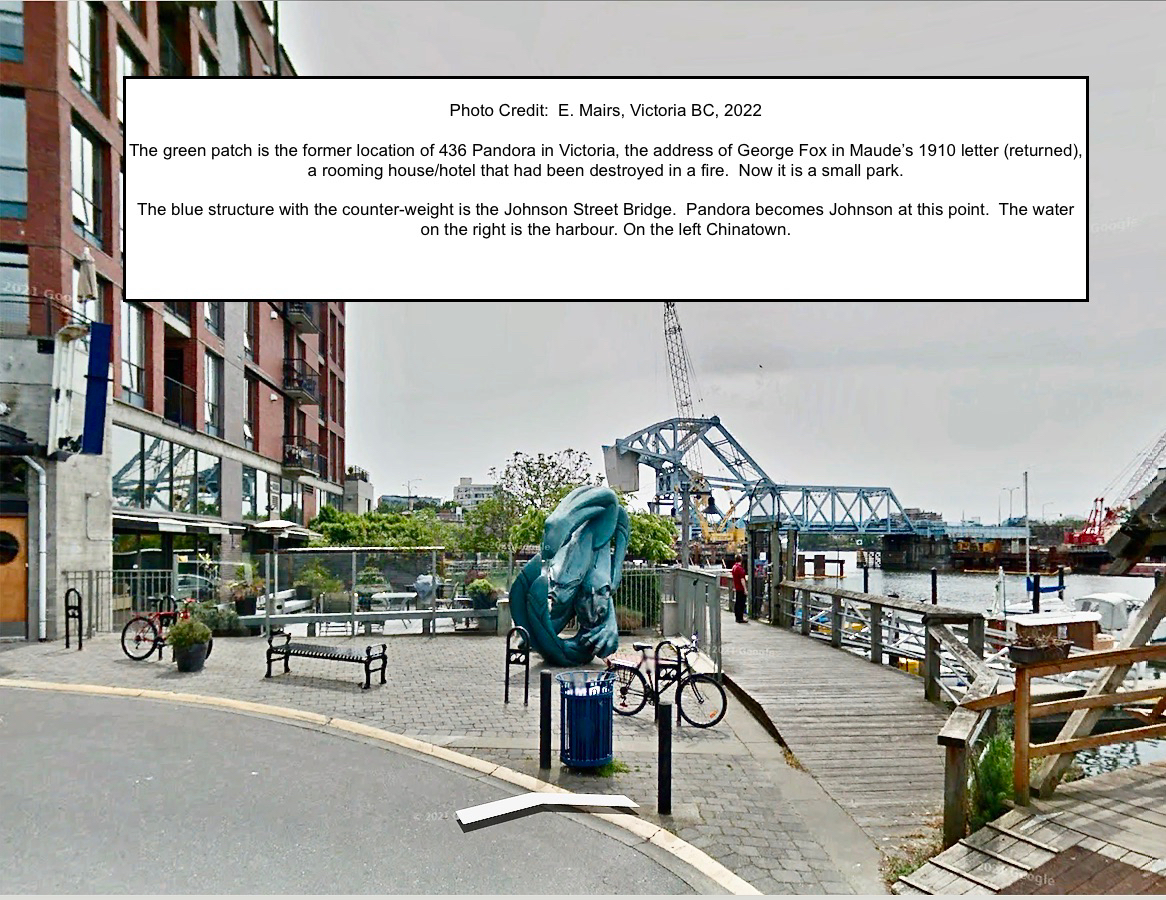 Wilfred Fox

September 11, 1884  England -  April 5, 1922 Hamilton, Ontario, Canada
England & Wales, Civil Registration Birth Index, 1837-1915 

for Wilfred Fox
Married Martha Lambert (Dairy, Scotland January 29, 1977- ?)
Two Children:  Arthur Lambert Fox (June 22, 1909 - ?), Wilfred Fox (February 4, 1911 - February 6, 1911)
1901 worked as Market Gardner in Hamilton, 16 years old 
1901 Census of Canada
for Wilfred Fox 
1909 Worked as a Carpenter 
Wilfred Fox, Ontario, Canada, Marriages, 1826-1938
1915 Enlisted in the 35th Battallion for World War I
Two of Wilfred's marital records negate each other in date and place.  On his second son's birth certificate it is recorded that he and Martha married in Dunnville on August 27,  1907 when in fact July 29, 1909 in Toronto, York is written on the official Marital Document. Perhaps the Dunnville date and location was a false record to cover for the fact that their first son Arthur was born out of wedlock.  Martha was of Irish descent, born in Scotland and arrived in Toronto June 9, 1908 with a British Bonus.
1. 

Within the year of Martha meeting Wilfred and having Arthur the following June, the family stayed in Toronto on Alberta street, and then moved to Lambton Mills (Etobicoke, Toronto), living in a house Wilfred built.  After Wilfred returned to Canada from fighting in WWI to be hospitalized, Martha and Arthur stayed close to him in Hamilton, residing in a rooming house at 219 James St. N.

2. 

and then 18 Evans St. in 1922 as registered in Wilfred's War records. 

1. Martha Lambert Canada Incomimg Passenger Lists, 1865 -1935 2. Martha Fox 1921 Census of Canada 
In 1910 and 1912 Wilfred's sister Maude writes:
Dick, Arthur, Walter, Fred and myself are home, Wilfred is married two years will be this summer. They have a little boy his name is Arthur and they live in Toronto near Anties (sic). He has bought a lot and are building a little house on it and will be going in it on the first of April.  We think he is doing fine his wife is Scotch her name is Martha and rather good looking...
Wilfred and Martha are doing very good.  They have bought two lots and built a small house on one.
On August 25, 1915 Wilfred joined the 35th Battalion, Regimental No. 405752 and fought in World War I, mostly in France.  Wilfred left from Montreal on the SS Metagama October 16, 1915 (Page 42).
ATTESTATION PAPER.
CANADIAN OVER-SEAS EXPEDITIONARY FORCE.
QUESTIONS TO BE PUT BEFORE ATTESTATION
1. What is your name? Wilfred Fox
2. In what Town, Township or Parish and in what Country were you born? Manchester, England
3. What is the name of your next-of-kin? Wife, Martha Fox
4. What is the address of your next-of-kin? 28 Florence Cres. Lambton, Ont. (Changed to 52 Florence Cres., Lambton Mills, Ont.  Page 53)
5. What is the date of your birth? Sept. 11, 1884
6. What is your Trade or Calling? Carpenter
7. Are you married? Married
8. Are you willing to be vaccinated or re-vaccinated? Yes
9. Do you now belong to the Active Militia? 36th. Pool 3 weeks
10. Have you ever served in any Military Force? If so, state particulars of former Service.  No
11. Do you understand the nature and terms of your engagement? Yes
12. Are you willing to be attested to serve in the Canadian Over-Seas Expeditionary Force? Yes
Signature of Man. Wilfred Fox      Signature of Witness.  F. Power
Distinctive marks and marks indicating congenital peculiarities or previous disease. 2 inch scar on right hand
Apparent Age:  31 years 11 months
Height:  5 ft. 4 ¼ inches
Girth when fully expanded: 36 inches Range of expansion: 3 inches
Complexion:  Fair
Eyes: Brown
Hair:  Brown
Religious Denomination: Church of England
Certificate of Medical Examination.
I have examined the above-named Recruit and find that he does not present any of the causes of rejection specified in the Regulations for Army Medical Services.
He can see at the required distance with either eye; his heart and lungs are healthy; he has the free use of his joints and limbs, and he declares that he is not subject to fits of any description.
I consider him *Fit for the Canadian Over-Seas Expeditionary Force.  Date: 25th August 1915, Place: Toronto Medical Officer: W.W. Cruise Lieut.
Wilfred was injured twice - once by "carelessly wounding himself in the right hand" (Page 7) with a gunshot wound to the finger - May 12, 1916 (Page 33).  In July of 1916 he ruptured his quadricep and needed 6 weeks of rehabilitation (Pages 17).
On January 15, 1919 Wilfred was transferred to England and posted for Demobilization.  He returned to Canada in the port of Halifax on the HMT Royal George March 25, 1919 and "Discharged from H.M.S." March 27, 1919 (Page 14).  On his Medical Examination upon leaving the Service (Page 15) it is written he was in good health and had a tattoo.  Notably, however, his one hand shook.
In a few years of returning to his home, Wilfred was admitted to the Hamilton Sanitorium suffering from the effects of being gassed at war.  He passed away on April 5, 1922 of pulmonary tuberculosis - his death officially attributed to his service (Page 38).  Ontario, Canada, Deaths and Deaths Overseas, 1869-1947 

for Wilfred Fox
Page 38 lists the the medals awarded to Wilfred; the Memorial Cross was given to his mother as well as Martha, who had by this time moved to Glasgow, Scotland with Arthur.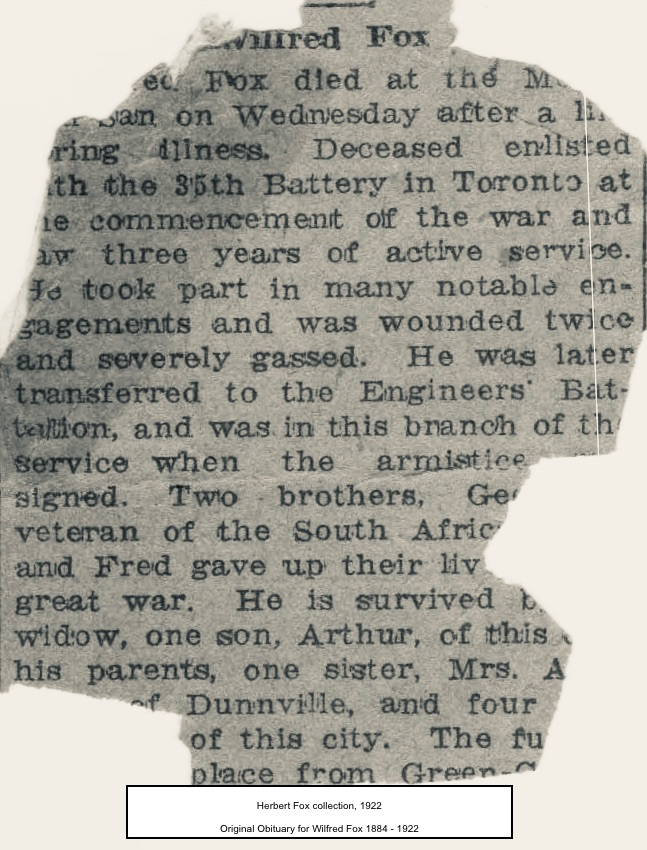 Wilfred Fox died at the ..... on Wednesday after a lingering illness.  Deceased enlisted with the 35th Battery in Toronto at the commencement of the war and saw three years of active service.  He took part in many notable engagements and was wounded twice and severely gassed.  He was later transferred to the Engineers' Battalion and was in this branch when the armistice (was) signed.  Two brothers, Ge(orge,) veteran of the South African (War) and Fred gave up their liv(es in the) great war.  He is survived (by Martha his) widow, one son, Arthur, of this....his parents, one sister, Mrs. A....of Dunnville, and four (brothers)....
Wilfred FOX.   
April 5, 1922
Sapper Wilfred Fox passed away after a lingering illness at the Mountain Sanatorium, Hamilton, on Wednesday, April 5, 1922.
He enlisted with the 35 th Battalion in Toronto at the commencement of the Great War, took part in many engagements and was wounded twice and severely gassed. He was later transferred to the Engineers' Bn. and was in that branch of the service when the Armistice was signed. He received his discharge when the C.E.F. was demobilized.
He leaves to mourn his loss his wife and one son, Arthur, of Hamilton; his parents, I.A. and Mrs. Fox; one sister, Mrs. A.J. Riley and four brothers, Arthur and Walter of Dunnville; Herbert and Richard of Hamilton.
The funeral took place on Saturday, April 8, to Hamilton Cemetery and was largely attended by relatives and friends. The pallbearers were all veterans of the Great War. Rev. W.L. Archer of St. James' Church officiated
Chasing Martha Lambert
Martha and son her Arthur did not completely disappear into oblivion back in Scotland, but almost.  Leaving Canada in 1923, they took the same ship Wilfred sailed on across the Atlantic to fight.  Martha aged 45, and Arthur, 13 yrs were registered as 3rd class passengers on Canada Pacific's Metagama and arrived in Glasgow on May 17.

1. 

Two years later their names reappear on a passenger list in 1925, ages 48 and 15, heading to back to Canada sailing 3rd class from Belfast April 24th to Quebec on the SS. Marloch arriving on May 2.  Arthur now has a middle name 'Hambert' (Lambert).  Martha has given the information that they planned to travel by CPR with $100 in possession and stay with 'Friend Mr. R (Reginald) Fox at 337 Wentworth St. in Hamilton'.

2. 

An impossibility since Reg was re-settled in the US at this point.  This is not Martha's only red herring on documents; taking into account her incorrect marriage date as previously mentioned, family records listed Martha being born in 1882 -  her marriage record says she is one year older than Wilfred - born 1883, but all other travel documents point to her being a full 32 years older than her son who was born in 1909 (often written 1910), and so her birth year is 1877.  Perhaps Martha and Arthur have left more documents that cannot be traced because of inconsistencies.  The last one that plausibly belongs to them is from 1939 where they both live together in a rooming house in St. Pancras - Martha as a pensioner and Arthur working as a Barker, their exact birth dates are transcribed.

3.
1. Arthur Fox UK and Ireland, Incoming Passenger Lists, 1878 - 1960  2. Arthur Hambert Fox Canada, Incoming Passenger Lists, 1865 - 1935  3. Arthur L Fox 1939 England and Wales Register
Ethel Jane Fox
1887 England -  February 3, 1888 Hamilton, Ontario, Canada
Ethel passed away as an infant of about one year old, having lived in Canada for eight months. Isaac's sister wrote a note of condolence referring to Ethel using the pet name 'Sissey' in her letter from England.
I was very sorry to hear of Sissey's being dead, the little darling, & you will miss her so much. It does seem hard to part with the only girl, but she was too good for this world.

..My dear Brother and Sister, I should like something of Sissy's, if only the least thing. I think if she had been my own child I could not have loved her more, but she is better off. I hope the boys are all well.

Emma Jane Fox, Eccles Manchester, March 12, 1888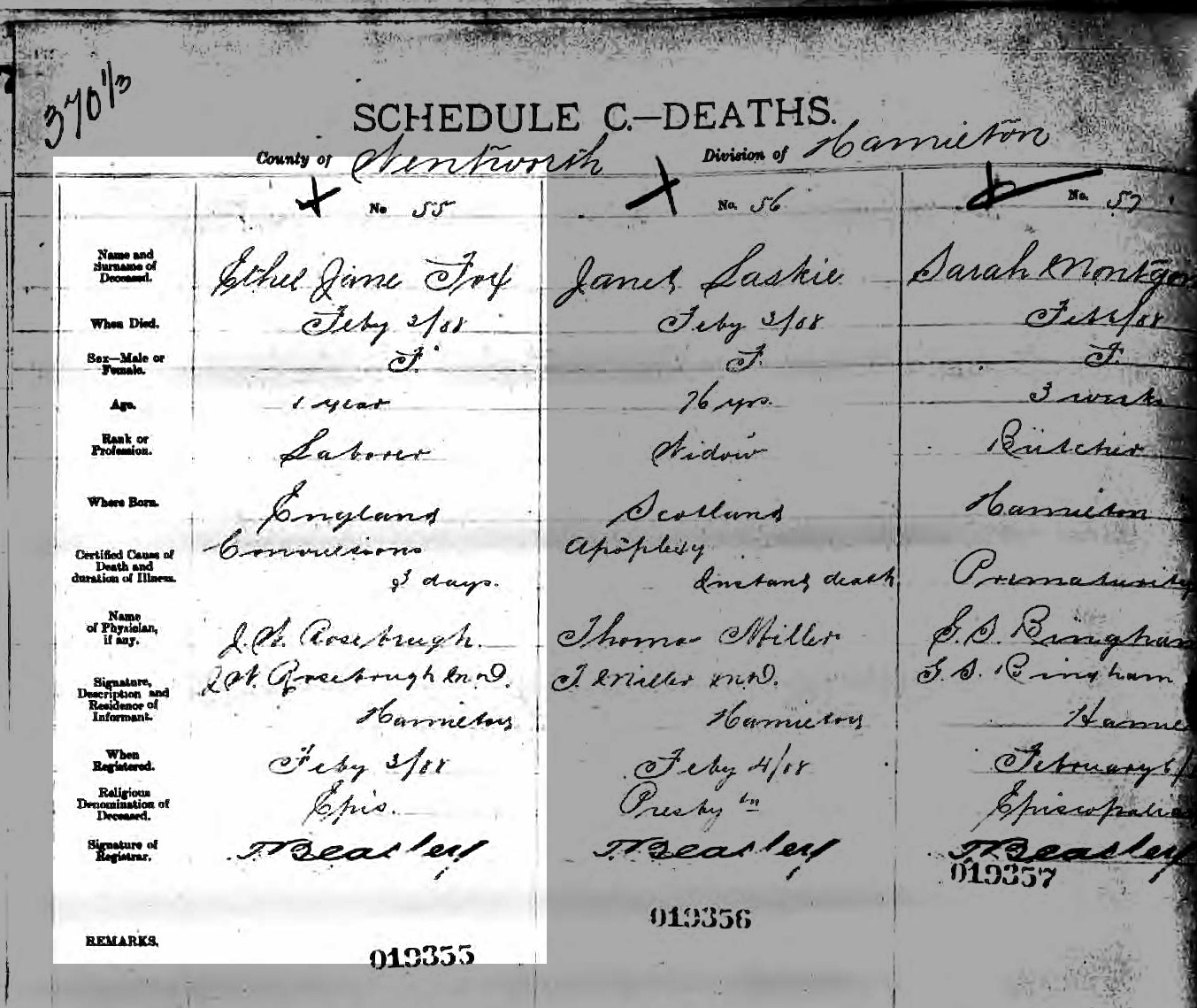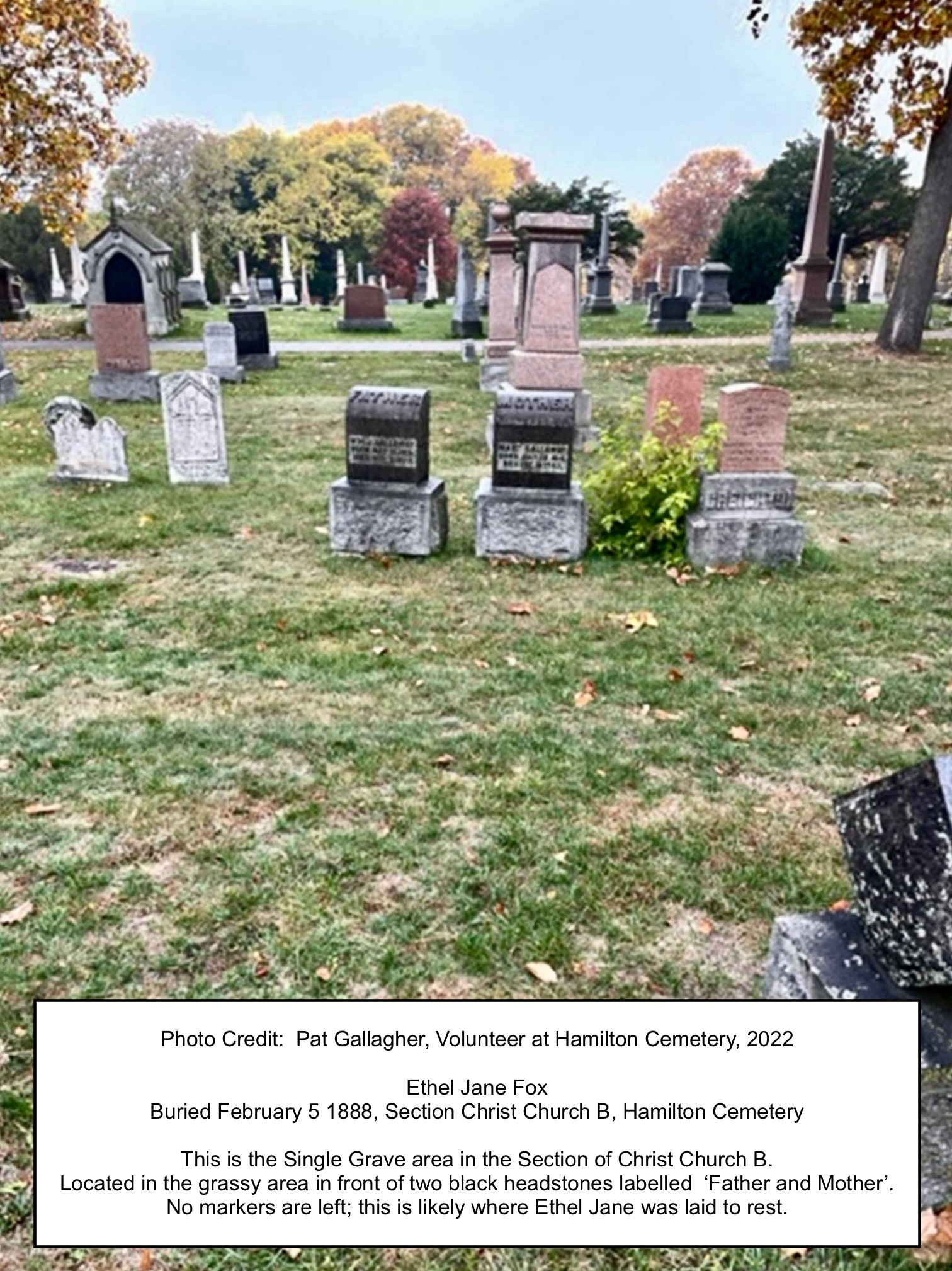 Reginald Fox
March 13, 1889 Hamilton, Ontario, Canada - ?
Married Rachel Warren (1884 - ?) April 20, 1909 in Montreal, QC Quebec, Canada, Vital and Church Records (Drouin Collection), 1621-1968 

for R Fox
Two Children: Alice Jane AKA Janie (December 13, 1909 - 2000), Agnes born on October 27, 1910 at 83 Stuart St. East, Hamilton, On.  Quebec, Canada, Vital and Church Records (Drouin Collection), 1621-1968 

for A J Fox /

Ontario, Canada Births, 1858-1913 

for Agnes Fox
Young Reg was considered the favourite cousin to his cousin William when he travelled to visit his Aunt and Uncle Jeffery's farm in Muskoka.   Maude's letters describe Reginald as an adult struggling with family life and work.
Reg has been in Hamilton two years he has been up twice but is wife Rachel hasn't been yet but keeps promising to come but hasn't.  They have two little girls their names are Alice (Janie) and Agnes, Reg don't seem to be making any headway.

March 27, 1910
We don't know anything about Reg.  He and his family were in Montreal last June.  He left her and then she came back to Hamilton.  Her and the children was living with Herb for nine weeks and then she went to live with her married sister and mother - they live on Barton Street near Smart Turners.  Since Rachel left Herbs, she has turned very ugly with them.  So that is (the) way she appreciate their kindness, so now they don't speak.

April 23, 1912
Beyond these unfortunate turns of family against family, there is evidence that Janie and Agnes continued to be included within the bigger realm of the Foxes; inheriting the Ontario Reader books that once belonged to Walter and Fred, Janie was pleased to write the names of aunt and uncles in the blank spaces.  This must have taken place around 1915 -1917 when Reg was likely in Europe fighting in WWI, possibly for the British since no documents exist under his name in the central.bac-lac.gc.ca website.  Once Reg was discharged, he left Canada for good where he settled in Michigan, re-married, and had a second family. 

1 

Reg is not recorded in either his brother Wilfred's obituary in 1922 nor his mother's in 1925 leaving us to guess he either happened upon an early death, or else family relations were strained to completion.

1.

from Canada to U.S., 1895-1960 for Reginald Alfred Fox
Arthur Fox
1891 Hamilton, Ontario, Canada - 1973 Dunnville, Ontario, Canada Ontario, Canada Births, 1858-1913 

for Arthur Fox
Married to Lexie - Alexandrina Manderson (1893 - 1977)  May 1936, no children
Arthur Fox
 in the 

Ontario, Canada, Marriages, 1826-1937
Born in a house on William Street in Hamilton, Arthur went by the name of 'Buds' from infancy and took over the family farm in Dunnville in 1931 after his father died.  Lexie was of Scottish decent and through her friendship to Nellie (Walter's Wife) who was also Scottish, she met and married Buds.  Buds and Lexie's place in Dunnville acted as a fulcrum to the extended Fox relations that had now spread out across North America;  they kindly welcomed any visiting family who came by to visit and try a hand at baling hay or husking corn.  They ran the farm operations until Buds' death in the 1970's - he was the last of the Fox children to pass away.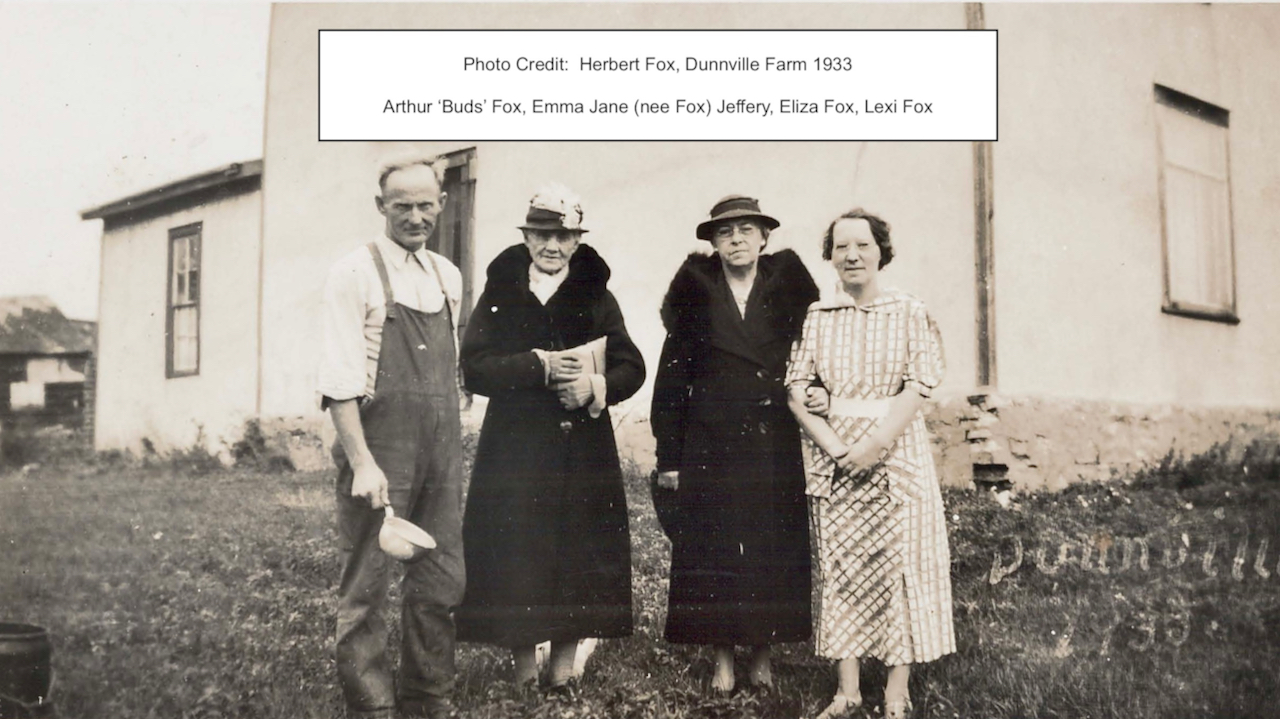 Maude Fox
November 30, 1892 Hamilton, Ontario, Canada - 1955 Dunnville, On Ontario, Canada Births, 1858-1913 

for Maud Fox
Married to Andrew J Riley (1885 - 1959)
Four Children:  Elroy James (1917 - 1991), Homer Barnsley (1920 - 1997), Bruce Coverdale (1924- 2010), Vera Maude (1926 - 2020)
Details of the Foxes life in Hamilton and the Dunnville farm remain thanks to Maude's letters written to her brother George which never reached their destination.
As a young adult, Maude travelled back and forth from Hamilton to Dunnville, working in both.  Later she settled on her own farm with her husband and children.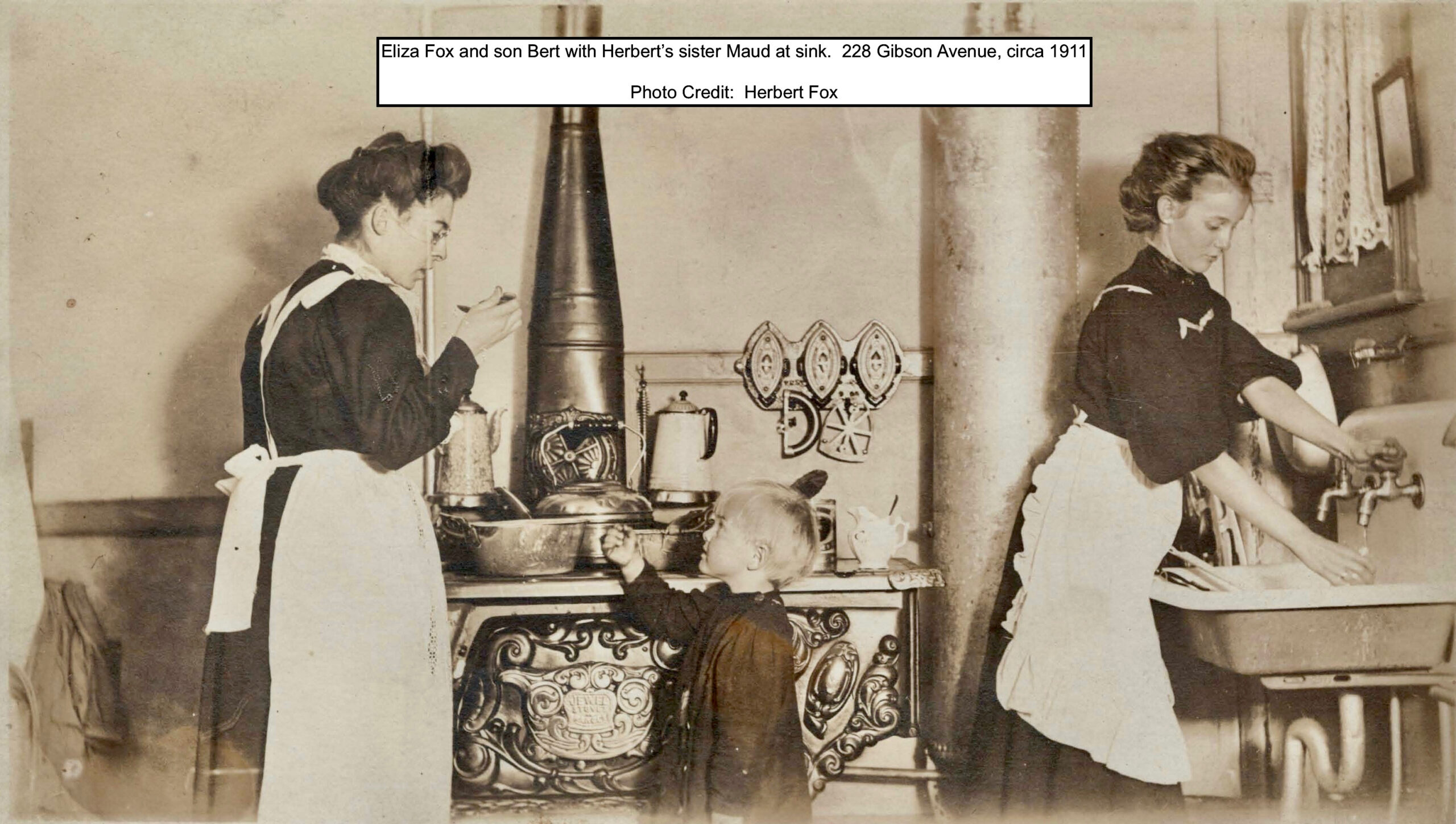 Dick, Arthur, and myself were down in Hamilton all winter working, I was working at the tailoring.

Maude Fox, April 23, 1912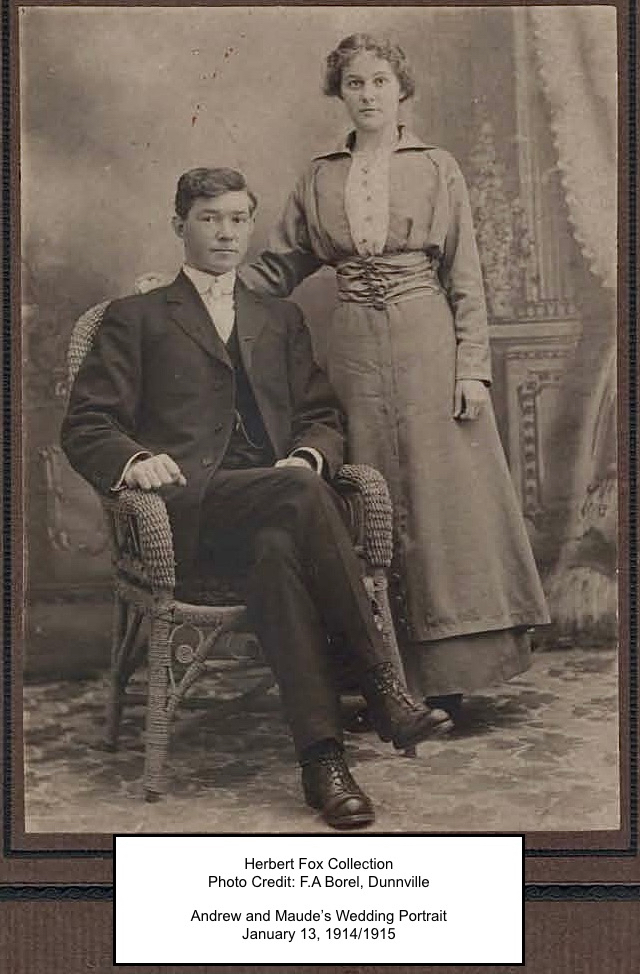 Marriage Announcement:
On Wednesday morning, January 13, 1915, a quiet wedding took place a the Methodist parsonage, Dunnville, when Rev. Dr. Laidman united in marriage Miss Maude Fox and Andy J. Riley, both popular young people of Moulton.
Immediately after the ceremony the happy couple took the early train for Hamilton, Toronto and Phelpston (near Muskoka).
Walter Fox
January 1, 1896 Hamilton, Ontario, Canada - January 4, 1961 Dunnville, Ontario
Walter Fox
 in the 
Ontario, Canada Births, 1858-1913
Married to Nellie Crichton (1896 - 1970)
Four Children:  Frederick Crichton (1923 - 1981) , Norman (1925 - 1978), Edward (1931 - 2006), Jeanette (1932 - 2011)
Walter and Nellie's personalities come to life in their grandaughter's words.
Nana Fox (Nellie) had a very thick Scottish brogue and was kind of a slightly built, feisty woman. Walter was taller and very thin, I'd say almost gaunt. When their son, my Uncle Teddy, was about 2yrs. old, he sustained a traumatic brain injury and spent his adult life institutionalized.

Uncle Fred was living there and working at the Ford plant, 

he didn't marry until sometime in the early to mid 60's when he married Aunt Nora 

with her four kids from a previous marriage.

Norman was working in the Buffalo area at the Chain works (Columbus McKinnon) 

during the week. 

 Aunt Jeannette lived on the farm until she married Mernie Sweet. 
 

I assumed Baba Fox was Irish because of the fact that he, Nana Fox, and sons Norman, & Fred were all Orangemen members (Nana was a Lady Orangeman). I had to march several times in their parades in and around Dunnville & surrounding places wearing Kilts and other various costumes.  I loved wearing my kilts that Nana bought/made me!  Norman had a fancy orange sash with all kinds of metals, fringe and doodads on it.  Nana gave me some recipe books (which she discovered I collected) She had compiled some of her favourite recipes in a notebook along with some poetry she'd written.  Nana was a great cook - we never found issue nor did the farm hands who always got breakfast and lunch either in the house or when she fed them in the fields.
 Walter spent most of his life (at least when I was little) being sickly. 

I always knew him as a nearly emaciated old looking man; while he would

occasionally let me sit with him, more often he wasn't well, so any children were kept away. 

At some point he'd lost a lung and couldn't do a lot.  Most weekends my family would go up to Dunnville to help Baba and Uncle Fred with the Farm chores and maintenance. They lived in the farm they rented until his health became a major issue, then Baba Fox went into the Grandview Lodge/Home.  He was their barber and cobbler as well as a patient.  My Nana Fox was hired to be the Head Dietician there and she had an apartment at the nursing home, which we visited frequently, until Baba passed away in 1961.
I remember meeting my Nana Fox's sister and cousin when they all came across the river to visit our family for a couple days in 1966 or 67.  They'd come to Canada from Scotland to see Nana. They'd gone swimming in our pool and when finished swimming, instead of going into the dressing room to shower and change, they disrobed on the pool deck!  My soon-to-be husband was doing dishes and looked up to see three little ol' ladies butt naked standing there, laughing hysterically.  Never a dull moment!   
January 4, 1961
Walter FOX
Following an illness of several years duration, the death occurred in the Haldimand War Memorial Hospital on Wednesday, January 4, 1961, of Walter Fox, in his 66 th year. Mr. Fox was born in Hamilton on January 1, 1896, a son of the late Isaac and Elizabeth (Barnsley) Fox, coming to Dunnville with his parents when he was eight years of age. He later moved to Moulton Township where he farmed until returning to Dunnville four years ago. Deceased was a member of
Knox Presbyterian Church and of the Inman Road L.O.L. No. 171.
He was married in Dunnville on November 30, 1921, to Nellie Crichton, who survives him, together with three sons, Frederick of Dunnville, Norman A. of Tonawanda, N.Y., Walter E. of Aurora, Ontario; one daughter, Jeanette (Mrs. Mernie Sweet) of Dunnville; nine grandchildren and two brothers, Arthur of Moulton Township and Herbert of Hamilton. The funeral, which was very largely attended, was held from the Alvin H. Bullock Funeral Home, 111 Lock Street East, on Saturday afternoon, January 7 th , with Rev. E.C. McCullagh of Knox Presbyterian conducting the service. The floral tributes were numerous indeed, indicative of the esteem in which the deceased had been held. The pallbearers were Bert
Fox, Burley Fox, Douglas Hildebrand, Elroy Riley, Home Riley and Bruce Riley. Interment was in Dunnville Riverside Cemetery.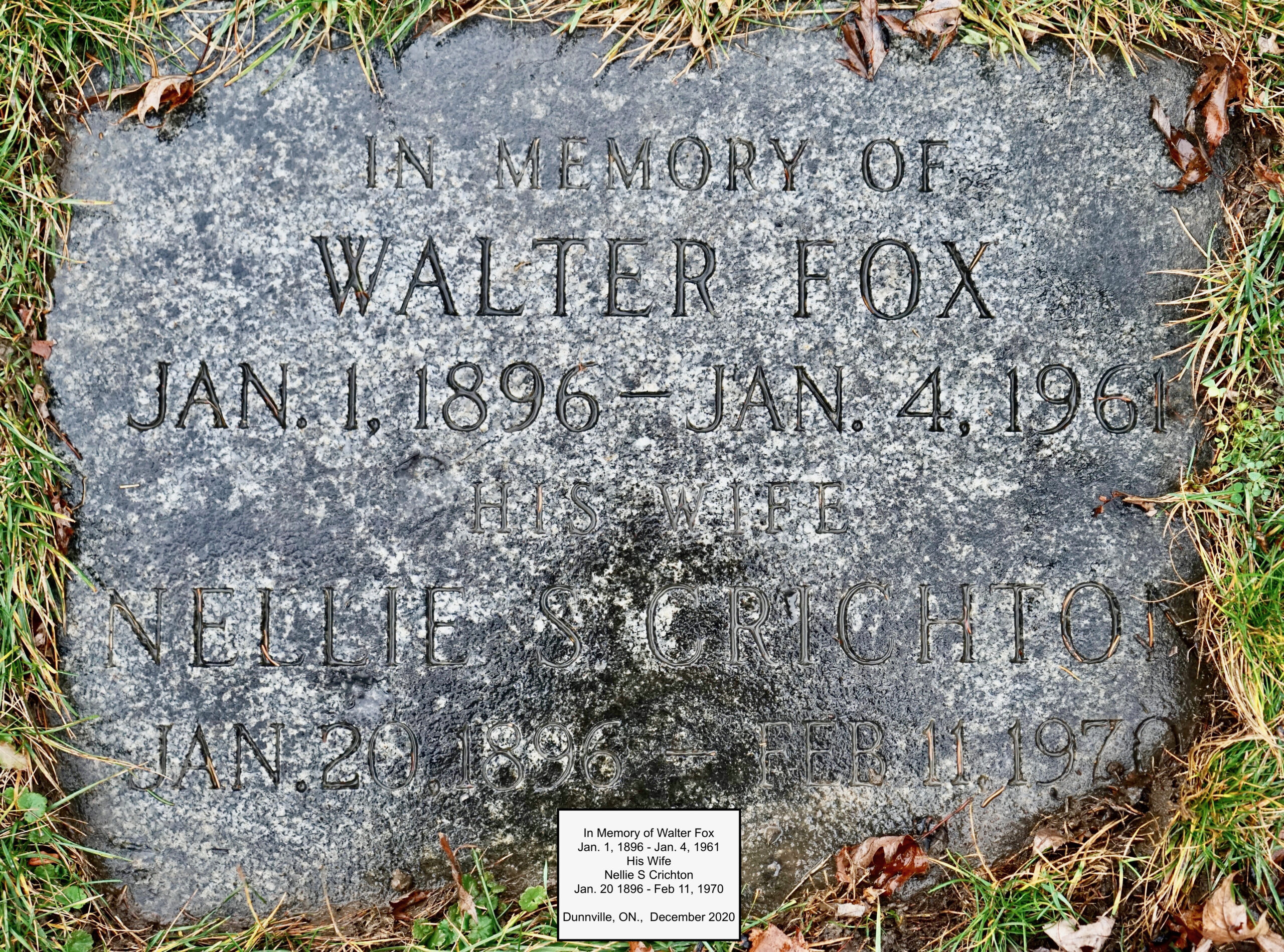 Fred Fox
November 24, 1898 Hamilton, Ontario, Canada - August 18, 1917 Lens, France.
 Fred is remembered as the baby of the family, making his short life more poignant when in World War I he was sent to fight overseas and was killed in the Battle of 70 Hill.
His sister Maude writes of an accident on the Dunnville farm which portrays Fred as a tenacious 14 year-old tending to his chores.  From April 23, 1912:
Just after Christmas, Fred got hurt with one of the horses.  He was leading the horse out to water, and with the cold the horse knocked him down and then stepped on his face.  The corkes of the horse's shoe put two big holes in the side of his face, just below the temple.  They hadn't any Doctor.  Dad stayed up with him all night.  He is all right now but for a cold.
It's worth noting the scars on his face listed in his Attestation Papers below include two on his right cheek.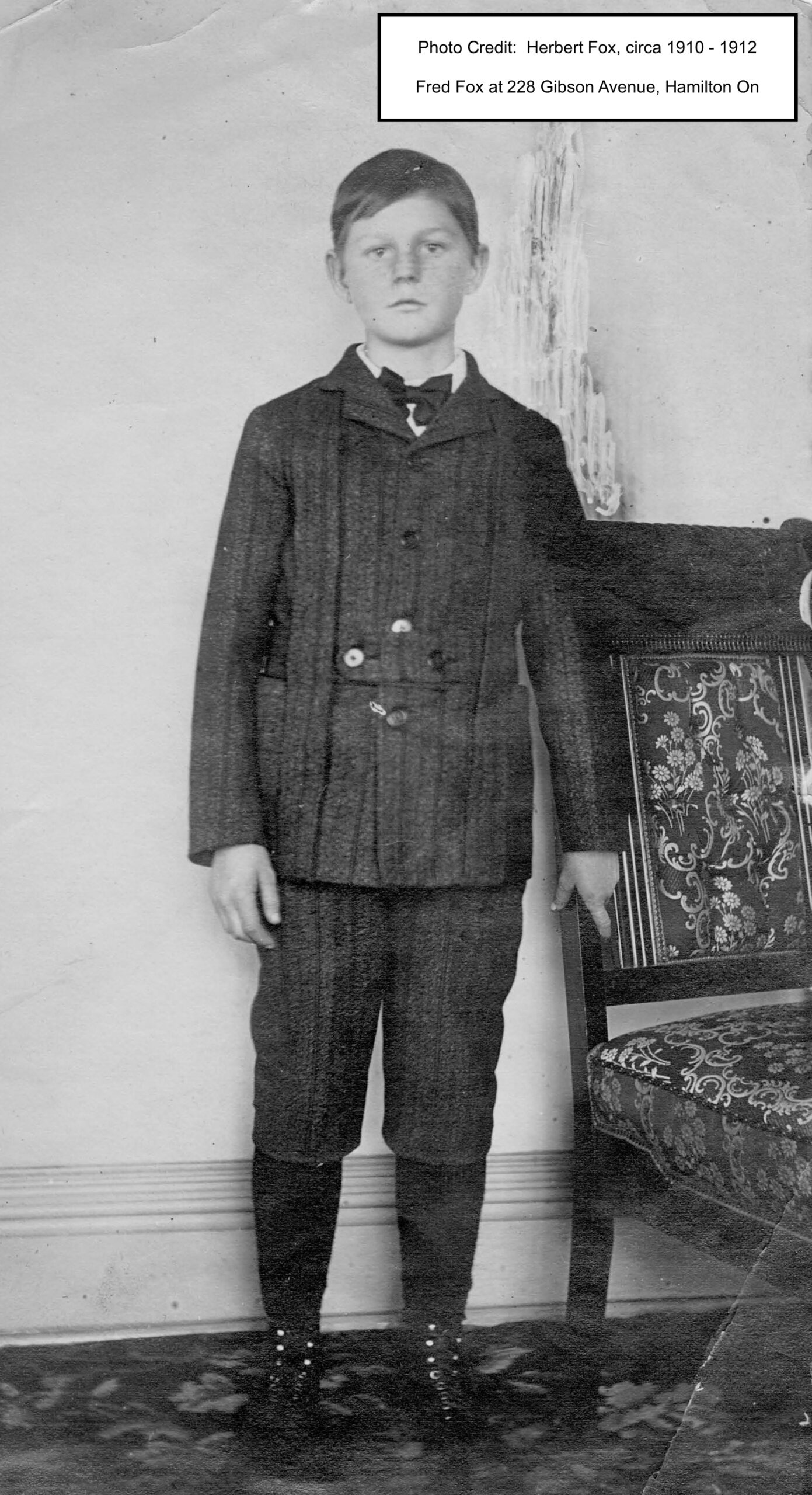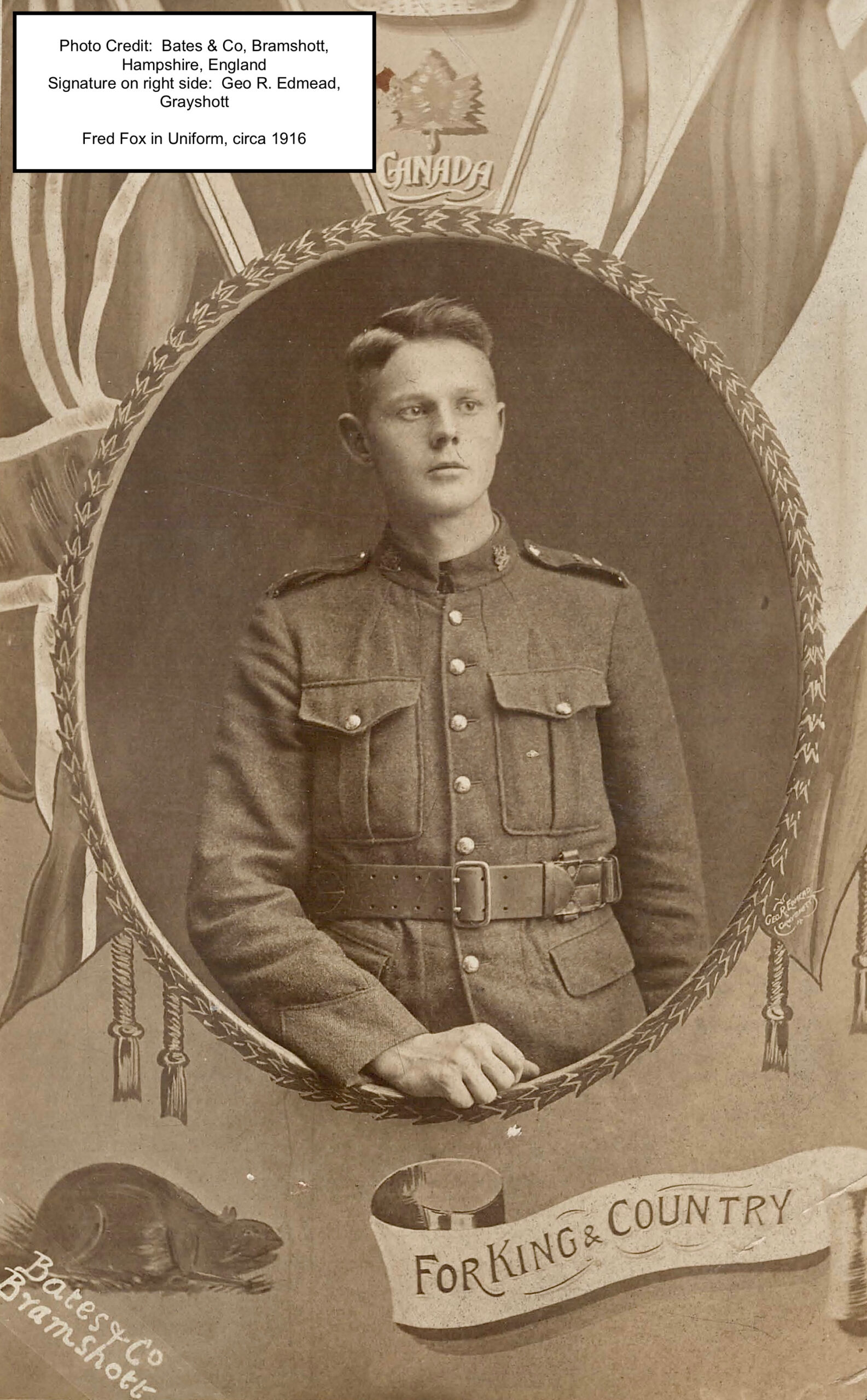 Fred's Attestation Papers for enrollment in the Canadian Overseas Expeditionary Force, March 9, 1916.
#757194  120th City of Hamilton Battalion C.E.F.
Name: Fred. Fox
Address: 228 Gibson Ave., Hamilton, Ont.
Born: Hamilton, Ont.
Next of Kin: Elizabeth Fox
Address: Dunnville, Ontario
Relationship: Mother
Date of Birth: 24 Nov. 1897
Trade: Machinist
Married?: No
Date: March 9,1916
Signed: "Fred Fox"
Witness: W.R. English
Description on Enlistment
Apparent Age: 18 years, 4 mos.
Height: 5'7½"
Girth: 35½ " (fully expanded)
Range of Exp: 2½"
Complexion: Ruddy
Eyes: Blue
Hair: Brown
Teeth: Good
Religion: Church of England

Distinctive Marks/
Vaccs. – Nil. 2 scars on right cheek. Linear scar2" long, left cheek.
Considered: fit. Medical Officer, March 12, 1916
Bramshott was a British village-camp unit that housed Canadian soldiers in WWI and WWII before they were deployed to active service in France.  During the short time he stayed there, Fred had his miltary portrait taken and wrote a letter back home to his parents. One line in that letter expressed his sadness that he was alone when he sailed from Halifax on the Empress of Britain and wasn't able wave goodbye to his family from the deck .
History of the Battle for Hill 70 at Lens, France:
FEWER LOCAL SOLDIERS IN TODAY'S LIST – Pte. Frederick Fox Reported Killed in Battle – News has been received that Pte. Frederick Fox, a popular young resident of this city, was killed in action in the Lens fighting on August 18. The official word announcing his death came this week to his heartbroken parents, Mr. and Mrs. I.A. Fox, who now reside in Dunnville.
Pte. Fox was only 18 years of age when he enlisted in the 120 th City of Hamilton Battalion. He went overseas in August 1916. When his unit was split up he was transferred to the 124 th Battalion and in April last he was transferred to another battalion in the firing line.
Pte. Fox was born in this city and was 19 years of age. He resided with his brother, Herbert Fox, 228 Gibson Avenue, before his enlistment and was engaged in the munitions department of Westinghouse. His brother, Pte. Wilfred Fox, who enlisted with a Toronto battalion, has been wounded twice and has again returned to the firing line. Surviving are the parents, seven brothers and one sister.

Address Reply to
The Secretary, Militia Council
Headquarters,
Ottawa, Canada
And Quote no 649-F-6484
DEPARTMENT OF MILITIA AND DEFENCE
OTTAWA December 18, 1917.
From - The Adjutant - General Canadian Militia.
To - Mrs. Elizabeth Fox, Dunnville, Ont.
757914 Private Fred Fox,
Canadian Expeditionary Force.
Madam:  I have the honour to transmit herewith a copy of the Burial Report which has been received at Militia Headquarters in respect of the marginally noted soldier.
I have the honour to be, Madame, Your obedient servant, Frank Beara
Director of Records for a/Adjutant-General
Enclosure - 1
MFK.
BURIAL REPORT.
Unit     124th Canadian Pioneer Battalion.
REGIMENTAL NUMBER    757914.
RANK   Pte.
NAME   Fox. F.
DATE AND NATURE OF CASUALTY    18-8-17. Killed in action.
WHERE BURIED    Cabaret Rouge British Cemetery, Souchez. (This is a recognised Military Burial ground in France.
NUMBER OF GRAVE     Not yet advised.
MARKING OF GRAVE    Temporary wooden Memorial erected with all particulars of the deceased inscribed thereon.
REFERENCE   R.L.25-F-1516.GR.
N.B. All communications regarding this report should quote the above number.
Extracted from Burial Records, Canadian Record Office, London
5/VW.  November 21st, 1917.
This Burial Report contains all information at present available but is subject to revision by this office.
Burial Grounds:  CABARET-ROUGE BRITISH CEMETERY, SOUCHEZ, FRANCE
Souchez is a village 3.5 kms. north of Arras on the main road to Bethune.
In September 1915 the village was taken from the Germans by the French and handed over to the Commonwealth forces March 1916. The village was completely destroyed.
The "Cabaret Rouge" was a house on the main road about 1 km. south of the village. On the east side of it were dugouts used as battalion headquarters in 1916. The communication trenches ended there. The cemetery was begun in March 1916, used steadily until August 1917 and then sporadically until September 1918. It was greatly enlarged after the Armistice by the consolidation of surrounding cemeteries. There are 7,655 burials, more than half of them unidentified. On May 25, 2000 the remains of an unknown Canadian soldier were exhumed and laid to rest within the Tomb of the Unknown Soldier at the foot
of the National War Memorial, Ottawa.
Fred FOX, Private, 124 th Battalion, Canadian Pioneers, died August 18, 1917, aged 19. Son of I.A. and Elizabeth Fox, Dunnville, Ontario. Service #757914