In 1949 Herbert and Eliza sailed to England to visit relatives and connect with the places where they lived in their youth.  Herbert returned once more in 1958.  His words written on the back of the photos are shown in quotations on the captions.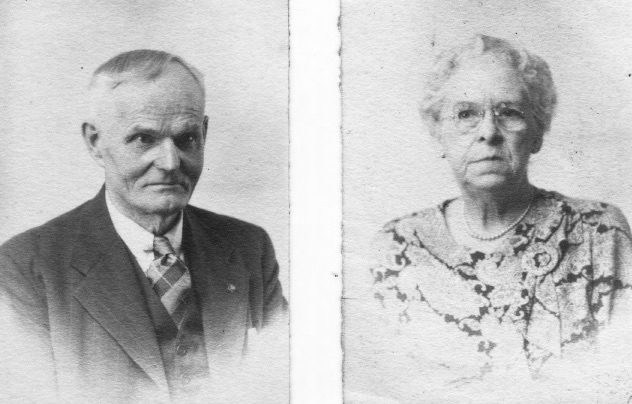 Herbert and Eliza's Passport Photos.
Click on the thumb nail images to enlarge the photos.
"St Mark's School - Cheetham Hill." Details of school life: St. Mark's School, weekly fee, except 1 and 2 all standards in one room, Headmaster Mr. Pittam, Laura Birch - when graduated from 8th standard started teaching first standard, Ms. Gilbert taught 4th st, possibly 200 students, All blackboards along the wall, Short summer vacation, All writing on slate - no paper-no text books, Standard 1 and 2 on first floor, Long black stockings, Short trousers sweater double peaked cap, Clothing well mended, Younger children wore clogs - wooden soles leather uppers held together by iron nails, square toes laced fronts.
Below is a transcription of Eliza Fox's travel log and a list of people visited and other contacts in England.
Spent nearly two weeks with Dorothy Somerset in Sheffield saw several factory. Saw works Edgar Allen's, back to Aunt Delia for several days Aug 1st sport day at Bradwell parada.
Tuesday Aug 2nd Motored to London from Bradwell with Mr. and Mrs. Hartfield (?) although plenty from (farm?) roads good. Arrived at 14 Fortesque  about 7:10. Wed Aug 3rd - went by tube to Charing Cross. Saw Thames, parlementary building badly bombed. visited Westminster Abbey, the unknown Solders grave and all the other notables. also 10 Downing st. back to no.14 for the evening.
Thursday Aug 4th with Maude on a long bus ride all through the busy streets such as Oxford st. Streets after streets of badly bomed places some have been restored. Went to see cousin Maria in her own home she is 84 and as lively as a cricket. Tom came for tea also Andrew Ford had a very plesant evening Tom playing and singing.
Saw Victoria park. August 5 the birthday of our second child. left home this morning by tube got off at Strand saw Trafalgar Square and the pigeons then in to Canada House to regestur, sat in reading room and read Ham. spec of July 21st. Saw Betty Ketchi (?) name.
went around all the principle streets and now sitting Leicestre Square. Call on Cunard White Star and check on passage back. C38, 7127 - Aug 24 leaft London 11:45. Aug 29.
Mr. and Mrs. Thomas Hull - Middlesex, England.
Mrs. Andrew Ford - London, England.
Mrs. Maria Hull - London, England.
Miss Dorothy Somerset - Sheffield, England.
Mrs. Delia Bancroft - Nether Side, Bradwell, England.
Mr. and Mrs. G (?) A. Whyman (Betty Scott)  - London, England.
Miss Ethel Parker - Lancashire.
Mrs. Shipley's cousin Mr. John Bennett - Enfield Middlesex.
Mrs. S (Shipley) sister Mrs. Fred and Evelyn Pearson - Ellesmere Port.
Mrs S (Shipley) brother Mr. Harry and Dorothy Bamford - Manchester.
Mr. and Mrs. Hague for Nether Water farm.
Mr. F.A.Webb - Yorkshire England.